Add your notes here please, simply click "Edit"! Ping @Matteo @Federico_Monaco and others…
The session is dedicated to advancing the opencare work on the collaborative, interdisciplinary paper about digital spaces mobilizing people to common action. Feel free to jump in and leave a comment with your impressions. Does it make sense to look at opencare stories and conversations in this way? What are we missing?
We want to assess and parse existing conversations for signs of action taken by opencare community members.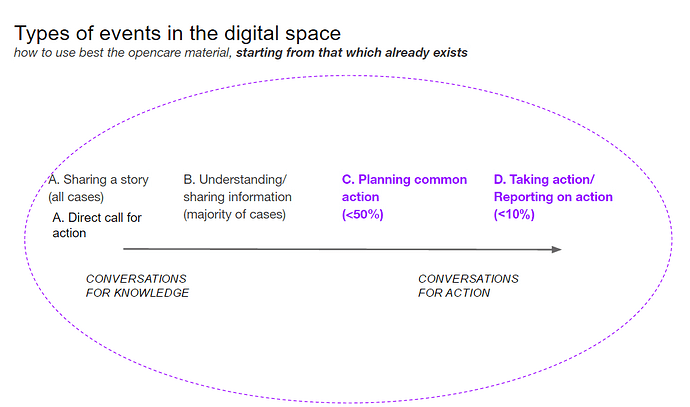 The contemporaneity of the action in OpenCare is in that any offline action also has an online component (hybrid action).
An event in opencare is an occurence, and any event can have two dimentions: nature and goal.
Matrix for trajectory of "event"
Care related nature
…
Care related goals
[Human exchange] / to be added!
Information sharing
Knowledge creation
Community building
Product design/ production
Service design/ delivery
324 stories in opencare: more than a repository of cases, but with the intention of making them into collabs
Trajectory of instances – we are not flat on action; to understand all the potentiality we need to look beyond action, how it returns in the community to create new knowledge creation.
Remarks for the matrix: other reasons for interaction go beyond info sharing; it is also about mental/ mental support, or human needs etc… (asking for help!)
Homework
Pick 10-11 events
Read the stories and classify them using the framework proposed by Ezio. Identify markers for each stage in the trajectory from i.e. Information sharing to d.e. Product/ Service design (Noemi & others)
Use Amelia's meta tag: "connection made on site" to identify markers for action! The goal would be to explore the way in which the dynamic unfolds.

Instructions:

Go to: http://164.132.58.138:9000/#/dashboard/tagView

Search for "connection made on site" in the upper left side

Select "Show details about the elements" (eye icon)

Click on the tag (red dot) in the middle of the figure

Get the list of the (19) comments

Click on the comment, then see the title of the post where the comment was posted.

Develop detailed explanations for each of the care-related events : nature and goal (Ezio)