@Yosser Anu is working on a Coffee Roastery too you can know more about the supply chain of a coffee Roastery

Hey @anu
that sounds good, also fitting in the wider openvillage vision, and having a house in a 3rd continent is quite appealing specially that each region has its own character, challenges, and potential.
on the fair trade issue, conflict food start up in Berlin is trying to do something but mainly in conflict areas, but we can learn from eachother. when we are developing a scheme, we can have a call together I can do the coordination.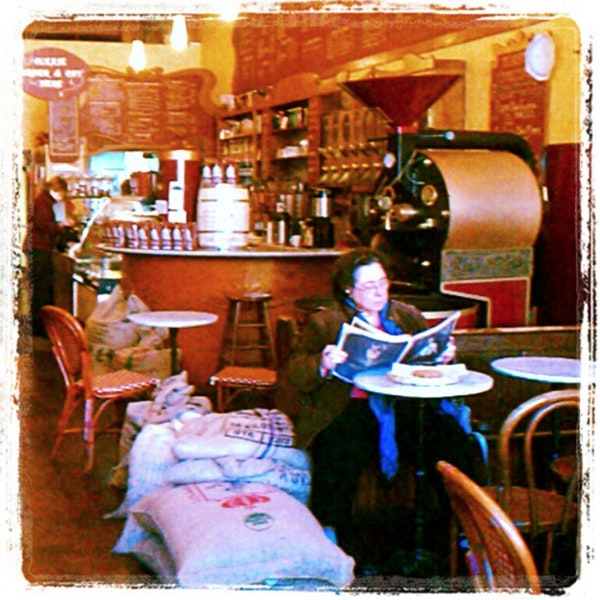 https://igx.4sqi.net/img/general/600x600/35709_bXI9I512sk503A_4qqWQp1gfPBVs8sDwgSPueEfMKzA.jpg
This is a pic - not a great pic, but you get the idea - of a coffee roastery not far from here (Marin County California) where I like to go. The roaster is there on the right, next to the bags of beans. They seem to do their roasting in the off hours. This is a very comfortable place to hang out and the coffee is superb.
Hello @hazem
Thankyou so much for appreciating the idea. [conflict food] (http://conflictfood.com) , Hands down! What an amazing initiation. World come together with such innovative ideas. It would be great if Nepal can be part of it. Yes, After the roastery start and we have products to sell, We can definitely connect. World need global collaboration

I was thinking to make roastery in ground floor and coffee shop at Roof top but this looks interesting as well. This looks very edgy and I hope gives different coffee vibe

A potpourri of ideas that could integrate with the concept you outlined above:
Live-in business hatchery. The young professionals mentioned by Alberto, or rather young entrepreneurs, might also suit as a second (minor) target group. Because there will be quite some young entrepreneurs tired of living with their parents, and looking for a nice but very affordable home. If that happens to be a live-in startup incubator, all the better.
Pick to pay. There is a social issue in Kathmandu in that coffee is considered a "high class" beverage, quite unaffordable for ordinary people. So, a nice opportunity to deconstruct that. Idea: have 1-2 special tables in the café where people come to chill / hang out and get coffee and seats for free, as much as they want, if they sort a bowl of coffee beans that comes along with every cup of coffee. The desks would be clean bright desks suited for sorting, with bright lamps, giving a reason why not everyone in the café can take part in this scheme. There is not a hygiene problem at all, since all germs will die when roasting at ≥170 °C.
Coffee picking as a service. Potentially, the "pick to pay" concept even makes business sense, and can be commercialized by offering Kathmandu's coffee traders and exporters to sort their coffee for a fee. Coffee has to be sorted to become high quality or even speciality quality coffee, and there is probably not a single optical sorter machine in Nepal for that. So the only option is hand sorting, as for 80% of the world's coffee. (Until our open source optical sorter is developed and built, that is.)
Align with a makerspace. A good proposal could be to find a space close to an existing makerspace / hackerspace, like Communitere Nepal. So people get the best from both worlds: nice coffee and good Internet in the co-working space, accommodation in the co-living space, but also a workshop with tools etc…
Hosting international volunteers. A good secondary target group for the accommodation, because they mingle well with students, are international volunteers (for example from AIESEC). They have usually less of a problem than students to afford room rent, so can cross-finance others' space rent a bit.
Get the co-working space for free. As we calculated when looking at the FOAM candidate space in Brussels, it is possible to get the co-working area "free", covered by the rent of people in the co-living space. This relieves it of the pressure to make a profit on its own, which can greatly enhance user experience by being much less commercialized. And from that relaxed, enjoyable setting, a lot of popularity and other options to make a profit may come, who knows.
Don't waste the coffee smell

Coffee smell is precious and almost universally loved. After roasting, the coffee has to cool down, and cure. That can be done in such a way that the smell goes into the guestroom. Maybe that's the reason for the bean bags in John's photo above …
Offer students to pay in kind. Another social entrepreneurship option, which will be well received among students who come to Kathmandu from the villages, can be to offer them to pay with their own services for accommodation, not in money. That's quite simple here, as it's not just a rental space but a business that can offer paid work. Managing all the components of this symbiotic business cluster needs some low to medium skill manual labor, and people living on-site are the most natural candidates for that. They can work, for (say) 8 hours a week as barista, janitor, coffee roaster, coffee packaging, IT admin, cook, kitchen help, or guard. Pitfalls to avoid are (1) it must not result in a two-tier "class hierarchy" of those who can pay and those who must serve, (2) it has to be manage legally safe and sound (no "black labor") while avoiding or automating away the bureaucracy involved for hiring people.
Agile bedroom management. Since many students prefer low costs over high comfort, and because it offers additional capacity around events and high demand times, bedrooms should be more managed like a hotel. So, inhabitants and guests alike would not have their own permanent room, but get a free room when they come in. When they travel or sleep out, even if just for a night, they can (or have to?) clear the room, and in exchange don't have to pay for that time. All of this can be managed with open source resource scheduling software. For added comfort, as a permanent place to store their belongings, everyone would get a special rollable shelf that can even go up and down stairs like a sack barrow. To store more, the less used items can go into a personal, lockable storage cabinet in a special storage room or in the corridor. To accommodate even more guests during brief "peak demand" times, there could be additional beds in store, so that people comfortable with each other can share rooms.
Crowd-funding with rewards. To have the funds for furnishing and equipping the space (in a small initial version) including coffee processing equipment, a crowdfunding campaign seems very realistic. It would target mostly travellers from abroad who love Nepal and come back often. They can easily afford investing 100-500 USD each, in return for a guestroom they can book for free when in Nepal. This is aligned to member benefits from the proposed network of OpenVillage houses. 50 people donating 150 USD on average would yield 7500 USD, which is enough to start a small version of this space in Nepal. It can then grow from reinvesting its profits, or utilize growing popularity for follow-up "round B, C, D" crowdfunding campaigns with the same principle.
Crowd-investing with rewards. Another way to distribute crowdfunding rewards is transform it into a crowd-investing model, with with capped profits rather than permanent shares. For that, you create PayCoupons coupons for the space, to be redeemed against all products and services of the space after a certain holding period. For investing 100 USD, funders would get a for example 200 USD or 250 USD of coupons, and could either redeem them by themselves when in Nepal, or exchange them on PayCoupons for other coupons they want.
Sharing equipment. A good part of what makes co-living a low-cost alternative is sharing space. Similarly, by sharing equipment the rest of life can also cost less. For a co-living arrangement in Kathmandu, that would mostly be bicycles, electric bicycles, motorcycles / scooters, a small workshop with tools, perhaps a gym pass.
Own energy, own water, own food. A good part of the OpenVillage vision is self-supply, to lower costs of living. In Kathmandu, this is quite possible: (1) have a rainwater collection and filtering system, as that can provide enough water throughout the year, (2) add photovoltaics panels to the roof and have a 24 V DC system with batteries, for lighting and computers, (3) use self-built electrical bicycles and electrical scooters for transport, charged at home from photovoltaics power, (4) collect organic trash from the neighborhood and create biogas for cooking (and for roasting the coffee), using a 1-4 biogas digesters on the roof, (5) create compost from biogas digestate and other organic trash, (6) partially grow own food by rooftop and courtyard gardening. Neighbours could be persuaded to provide their rooftops for free if these gardens are nice to look at and to relax in the shadow of the plants. The equipment for all this technology should be mobile, prepared to move places without much effort. It would be standardized, resulting from a shared development effort among multiple OpenVillage houses.
All of those ideas are great @matthias . I am working on developing a proper plan

@matthias, you are on fire. Let's do a spreadsheet session soon.
pick to pay
excellent idea.
smell the coffee
The bags give ambience but like you say, the smell of fresh coffee is so good. Plus many people spent much if not most of their lives drinking lousy coffee. That fresh roasted smell is a kind of revelation.
The ideas around live/work are interesting and somewhat reminiscent of the hostel network.
It does look like it would need very sound management to succeed over time.
What kind of problem are you expecting, @johncoate?
Things that need management more than just informal crowd sourcing or a signup sheet:
Roasting operation
the cafe itself
the pick to pay and coffee picking operations
students paying in kind
bedroom management for guests
following through on the results of the crowdfunding
the PayCoupon exchange
money-handling, "check signing" person(s)
Things that can be managed ok by group consensus:
longer term bedroom assignment
kitchen and housekeeping duties
maintenance and repair
"straw boss" assignments of workspaces
use of equipment
decisions on certain money issues
@Sohayeb here is the project I told you about what do you think is it feasible in our Tunisian context ?
@johncoate Yes. You are right. For sustainability and also for the smooth run of the Open Village House Kathmandu, There should be proper planning related to lodging and other related works like roastery as well as coffeeshop. I am thinking to have a bed and breakfast service for co-housing. We can have local housewives as staff to prepare morning breakfast or I myself can very much do it. It was the same at Vietnam when I stayed at Hostel.
This way morning hassle in shared kitchen at peak time can be solved. The shared kitchen can be utilise for lunch/dinner. The student rooms and Guest rooms management need more planning. Do you have any suggestions on it? What I am thinking is to start small at first and then with success gradually increase it, same with the rooms. The room planning at initial phase will be
One Big Shared Guest Room (Arrangement for 3/4 People)
One Big Shared Student Room. (Arrangement for 3/4 People)
One Shared Kitchen along Dinning
One coworking Room
Roastery in ground Floor
Rooftop Coffee Shop
Any thoughts on this?
But can you add more rooms? Normally buildings have a fixed number of rooms, and if you need more you will have to get another building.
Rents are getting very expensive now in Kathmandu. Despite taking whole house, I am thinking to take two flats for rent and if we get successful, we can search whole house OR what I am thinking is taking a whole house (let's say house with three storey) for rent, use only two storey and rent one storey to another office like NGO or so. This way if we see growth of Open Village House,We can give them prior notice and take whole house for ourselves adding the rooms.
What I am thinking is to start small at first and then with success gradually increase it
There is a kind of tension between having a bigger vision of where you want to go and getting going with what you can really handle. The idea of acquiring something big enough for growth that can be sublet until the right time is a pretty good strategy for this I think.
Yes, I have already started working on proper plan related to everything. I will be updating everyone soon as it completes.
@anu and @Matthias, two years ago there was a big villa available near Karkhana space, I have never seen it but my friend mentioned it as an opportunity to open something big and ambitious there. Owners struggled to maintain it.
I could check where it was, and it would be the type of space you might want to get - the bigger the better, so you can expand gradually. and with a garden. If you can make one-two beautiful rooms for short-term rentals for travelers and set the price high, explaining it would offset the costs for struggling youngsters, I think it would be appealing for many to book it.
Sweet. You may want to connect with @Shei who;s in Kathandu now and I think has access to some kind of space. I'll let Shei introduce herself

Hello @natalia_skoczylas. The Karkhana location is very good actually, easy access of transportation and good neighborhood but don't you think the rent of that area will be quite high?