I will get back to you on this today. Monday 2-5 - I teach, but it is an exam (in-class, on paper), so perhaps I can try to talk to you as they are writing.
Sorry, Zoom is making me update my software!
I think @Jirka_Kocian and I are in the wrong place – we are on the link attached to the calendar invite.
Hello @rebelethno,
I wanted to check the code "marketing", with two annotations. One annotation is mine, but the other is not from our project.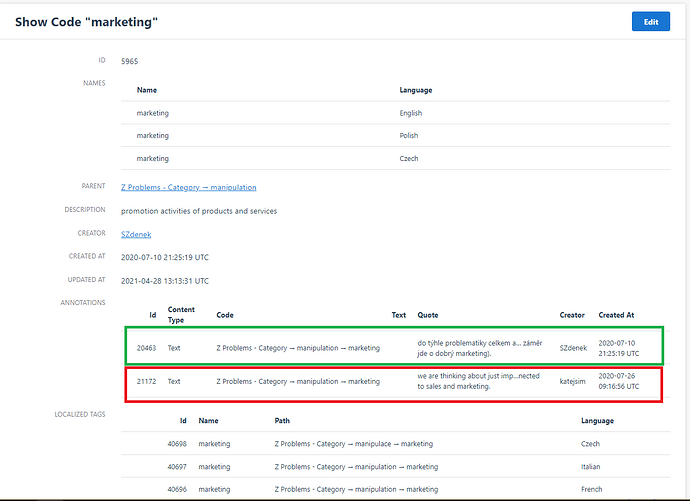 When I have checked the source text, where it is annotated, I have found out, that many of the codes are associated to our project - though the text is not. (see picture)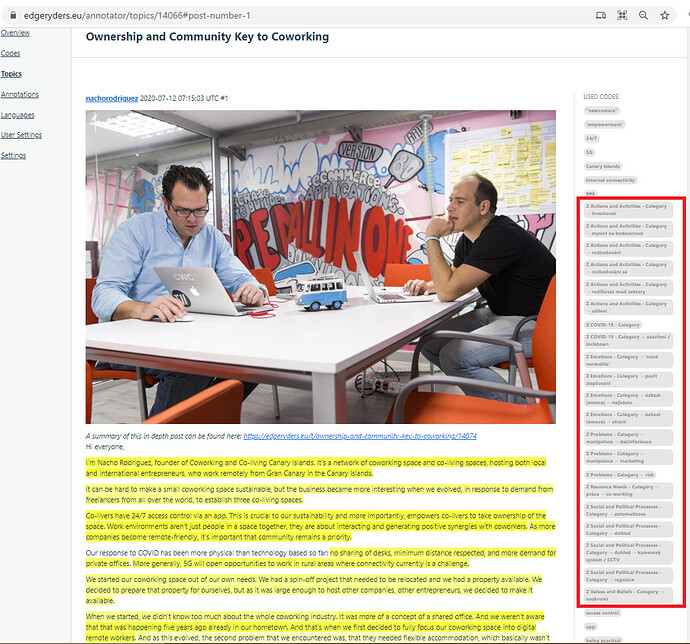 I also wanted to check what are the other +56 annotations to the code marketing and besides "political marketing (by Jirka)" there are codes from other projects (e.g. "advertising") childed to the code marketing, which again has two annotations - one si mine from our project, the other is from "katejsim". (see picture) I have no idea how to deal with this. E.g. duplicate marketing one with my annotation and associated "political marketing" will be left under some(?) name and parented to our Z category, the other will be left with the name marketing, the second annotation and children of "advertising" etc.?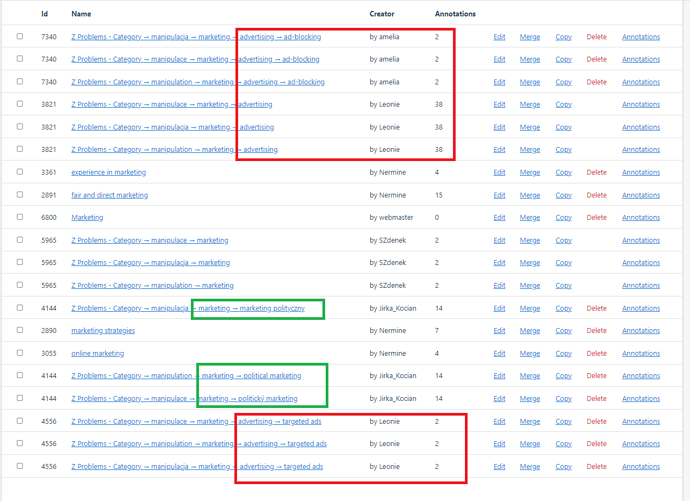 You mean to say, the topic with ID 14066, called "Ownership and Community Key to Coworking", is not associated with your coding project ethno-poprebel? Indeed, that topic is not tagged ethno-poprebel.
Some of the codes used are codes you developed for your project. That is because other ethnographers re-used your codes. That's a feature and not a bug in a collaborative ethnographic software like this

Anyone re-using others' codes should be aware that the name and hierarchy of these codes may be changed by their original author, and thus use them carefully (usually after the original coding project by the other ethnographer has concluded).
So I don't think there's a problem here?
Dear All, I am sorry, but I forgot that this Friday (29 October) we have a long POPREBEL Supervisory Board meeting. So, let's move our next coding meeting to Friday, November 5. Wojt and I will communicate with you on our work soon - we have made considerable progress.
@amelia and @Richard: we have not set up time for our meeting, it seems. I am free tomorrow (Tuesday) after my 11:00 (16:00 in London). But I know Tuesdays are not good for Richard. Wednesday are very busy for me. Thursday?
Janie, can we meet on Thursday at 10.00 US / 15.00 UK?
Dear All,
just to make sure we are on the same page (also in terms of time): we are meeting tomorrow (Friday) at 15:00 in ECE, 14:00 in London, and 10:00 am here (Europe went off the summer time; here it will happen this Sunday).
It is embarrassing but I forgot (again) what link we decided to use. Please someone send it (or I can set up a new one via Rutgers tomorrow). Ciao.
Dear all, just a brief memo, I finished the Emotions Z category review.
Here is a link to my updated work notes which contain my methodological observations and original list of all the codes including the prolinks to the coding view backend.
Here is the table of code review organised according to Jan's and Wojtek's approach, contains a full and "Think version" representing the proposed codebook.
For those who do not want to lose time reading the document, my main conclusions after several rounds of review are:
Working definition:
Emotions (annotations-codes) = when people express their own feelings or describe other people's feelings
Emotions versus Problems = Emotions (as defined in point 1) play a notable role of action modifier/attribute or key concept in the annotation
Therefore, the proposed coding approach specific for the Emotions Z category:
"semantic" is preferred over "latent" coding. Especially with problems, which are typically normative statements, one can dig in and find emotional aspects in most cases. That might in turn pollute the graph with omnipresent emotion-codes.
I do believe we are primarily interested in relation between important phenomena, rather than microanalysis of narratives. In this way also the issue of narrative agency is solved by simply giving preference to our informants over the coders when it comes to interpreting their "world".
We can thus generate a thinner, general codebook, which still informs us about the functions of emotions as attributes/modifiers as well as problems more in the ethnographic rather than psychological sense and distinguishes emotions from other semantically represented problems
Can't make it today —will be on a plane!
Super! Many thanks Jirka!
I also cannot attend today. Sorry!
Jirka, this is very clear even to me. Thanks for documenting your approach.
Weekly POPREBEL meeting 5.11.2021
• We do have a lot of materials, but not a lot of stuff related to populism (from the old corpus).
• We could create the Z category of populism related codes only on the spreadsheets.
– Propose list of words and phrases that indicate a sentiment which could support the political option loosely defined as 'populist' .
– We have a lot of material demonstrating a rather shaky state of the society…macro indicators, the more sociological analysis based on surveys shows a picture that is broadly much more optimistic than what we find in the field.
-Problems with statistics? They disguise the reality on the ground…
*Healthcare provision
*Shakiness of provision of basic state services
• We see a very drastic shift away from the classical political division (center-left).
-Things are out of whack, they are not the way they should be…
CODEBOOK related
Catalogue of codes in the spreadsheet that will allow an easier annotation and connection.
-easier navigation of the codes

Everyone should review and revisit the spreadsheets.
-What Jirka did with Emotions is really impressive.
-Immediately in a dialogue with the literature on populism and emotions.
-Jan and Wojtek ended up with a way more extensive categorisation.
Jirka: This is like the 6th or 7th revision of the codebook…
When I want to code the emotions, I think carefully about what I want to code and why I want to do it…
-Understanding emotions as a functional element rather than the agenda setting (such as in the categories of institutions, values, problems).
-I am being more selective.
-What should be left out and what should be included, smart prioritising…
-I think the metanotes can contain multiple codes across each other. If we would create populism DNA of all the codes we have, select those who are directly linked to populism, we might be able to visualise them via the metanotes. @Jirka_Kocian - to explore further.
-Possibility of superimposing images with Z cats. for some purposes.

Discussion to be held about the extent of the technical support we might need from ER - question of investment and funds.
Moving forward:
Completion of the codebook!
-Everyone in the team should take an active part in the revision of the finalised version of categories and codes!
Jirka: -This is a proposed abstraction of codes – it is not going to be perfect!
-We need to break through the barriers of different language fora…
-In the spreadsheet there are two lines of not aligned codes we have to deal with.
-@Jan + @Wojt will set up a preliminary work schedule in order to divide up the roles and set realistic deadlines.
-Initial idea was to have the codebook ready by October, realistically we are hoping to have it done by the end of November.
-The rest of the team will get a green light from Jan when the categories are ready, in order for us to start revisiting and commenting on them.
–EMOTIONS AND AGENTS are ready for inspection.

Let's check with Alberto and Mathias whether they can merge the old codes according to the new system (the new codebook).

Coding of the new material *in-depth interviews
-We prioritise coding the new stuff.
-Once this is done, we proceed to the recoding the old corpus.

If time allows, we will recode the old material, whatever remains uncoded…
Still need to discuss what exactly happens with the old material, whether it will be transferred, merged or re-coded more fully.

Clarify who will transfer the codes from the spreadsheet, whether some of this process can happen automatically etc.

We can distinguish between the old corpus (tagged as ethno-poprebel) and the new one (rebel-ethnopop) using the aforementioned tags.
-Jan: The job is to revamp the existing hierarchy of codes in poprebel and we have to be aware that this is for the sake of clarity – two separate jobs in two separate corpuses of texts (ethno-poprebel (old) vs. rebel-ethnopop (new))
-We need the ability to visualise the two corpuses at the same time.
-We have to reflect on this in our methodology explanation.

We need to figure out how much resources, people and time do we need in order to complete the coding process. Do we hire extra people? Do we train existing team member?
Jan: When recoding, you don't need to read the text again, you will have the instructions. It is a pretty mechanical work. Eg: an old code a will be assigned to b (in the new spreadsheet).
-The whole bunch of old xs exists in new xs…some are new and some will be proposed to be merged or to change the names.
In order to test these ideas, Wojtek already went from time to time and changed the codes…there is no longer the pristine codebook n.1. So we have a slowly emerging hybrid codebook.
-Old one is closed ethno-poprebel, the second is the new rebel-ethno and the third will be the poprebel n.2.
-Wojtek – the process we used was counting on emerging phenomenon to present us with surprising findings that we would not find otherwise (collective intelligence, big data)– but this was a totally different approach than where we are now.
-What we are doing now is using preliminary data from that stage, we focus on the main topics and themes emerging from the new stuff and we create an apriori codebook.
-It might not take that much to apply this new codebook to the older stuff.
Wojtek (in the comments section)
a) We won't be distracted as easily this time - we have our research question, major categories, the whole conceptual framework. We kinda know what we are looking for, though this was not our initial approach.
b) we should remember what these texts are about (I do)
c) (partly due to a) there are fewer codes to be applied
Therefore it coding/recoding the old material may not be as time-consuming as it may seem.
Wojt
-Phase 1: finishing the codebook
-Phase 2: introducing the codes into the backend, before we start coding the new material
-Me and Jan will prepare a training for the new coding and then prepare a test of coding. A good way of developing a knowledge of what we already have and how to be confident with it.
Zdenek:
Since Jan and Wojtek are doing revisions of the codebook, me, Amelia and Richard (+ M+J+D?) should do the check of Jirka's thin verion. Once J+W are done with some other Z category, they will let us know and we will chceck that cathegory. Right?
Jan: If you have an idea for a new code, you add it to some spreadsheet we will set up and explain why you are suggesting it so other coders are aware of it and can approve it.
Jirka: now we have so much theory and methodology so you really must defend your new code suggestions. Having some kind of hierarchy of who can pass these decisions.
-Also we must keep the two versions of the codes in the categories(thick and thin), so we understand the process behind it.
Wojtek: it makes sense to try to make them as uniform as possible.
The next steps (sumup)
Wojtek and Jan will start sending links to the spreadsheets for a final review.
-We will propose a schedule to divide up work and tasks.
-Can we manage to finish the codebook by the end of November?
-Reviewing comments: there is a column – reviwing status
-Let's go through it at our own pace and be attentive to what does not seem right and comment on it in the spreadsheet.
-Jirka will take up the task of figuring out the metanotes.
Technical issues with ER:
-The fact that you do not see the annotations at the margins makes the coding process difficult.
-The annotations at the margins are not clickable…do not take you to the code in the text.
-The coding is not reflected in the text (in yellow).