Fascinating. You gonna fix it up?
Yep, can't wait to start! Already saw it cleared up in my dreams, with old stones neatly arranged on the side, ready to be reused

Need to figure out what can stay, what can be fixed and built upon without destroying the original buildings.
Just not sure should I make it my home completely or use the other houses to create a mini version of my dream project

and test it out.
Right now it looks like it will be my new home, with cellar, workshop, gardens and everything a farm needs.
I tore down the porch section on the right side of the house, covered that whole area in a big tarp tent to keep it dry, and am digging out enough crawlspace to put in some replacement beams under parts of the house to shore it up. The main part of the house was built in 1929 entirely of old growth redwood that does not rot and is bug resistant, but it is sitting on these beams that are not redwood and they are getting too soft. This is not work I can do more than a couple of hours a day…things slowed down in the winter but in 3 months it will look like this photo andI'll get back into it…
I highly recommend looking at Benedict Evans' slides from a talk he just gave at Davos called "Standing on the Shoulders of Giants." It's a look at how the future of the 'Net looks to a seriously sharp guy. (VC with a newsletter that has 130K subscribers) Much info and concepts here. And a nice presentation; easy to go through. He looks at eCommerce, what the next big thing might be, the role of regulation, anti-trust, content moderation in social media, national sovereignty and "extraterritoriality," what "community standards" means anymore, and regulation as the "next big thing." Ultimately he conveys a sense that these contain complex problems that won't be solved by simple answers.
Wow! I love it! How close is the nearest city?
200 km north of San Francisco 3 from the coast.
This looks great. If you need some help woth the physocal help + have access to running watervand electricity maybe do a call for barnraising. I would join anyway- help a friend + holiday + physical work.
Where is the house? What country?
Considering you are a third friend who said this-i probably should

.
If I do it in summertime, it will be work early morning, then in the evening. All between is just for the beach etc since it's too hot anyways

.
@johncoate It is in Croatia, near my home town-Zadar. Right here
do it!

Wanted to share my update too. I'm currently in my hometown Split working on a project, an experiment called "Voids2020". We opened a few closed spaces during winter in the historical center and gave them to artists and the community to use them temporarily…my current office is in a souvenir shop, right in front of the (closed) Game of Thrones museum. It feels super strange and very fun at the same time!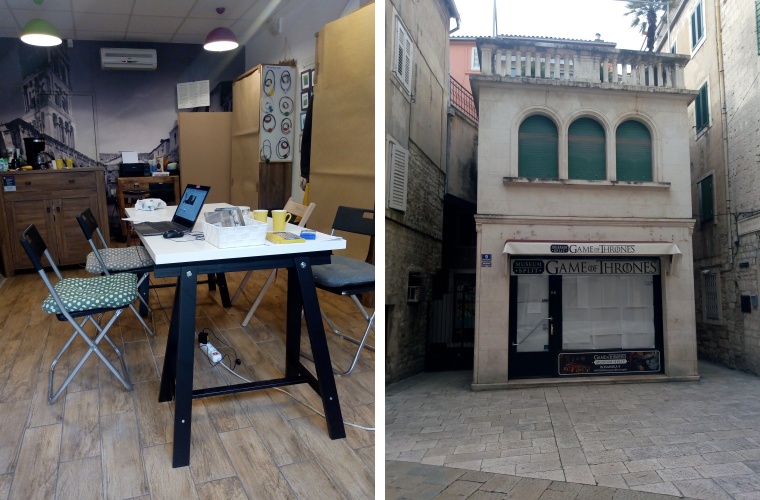 game of thrones museum???
Yes, they filmed shortly there and now it's crazy, "museums" and gift shops all over the place. But I guess not even the GOT fans come in winter.