Alexandria and Rio are two cities featuring beautiful waterfronts. But far from the visual similarity there are two different stories. Alexandria Corniche (coastal road) is highly motorized with some parts of it made of six car lanes in each direction. If you go to Alexandria and you stay in a vintage sea-view hotel in the old city, you are very likely to know all the city's problems in the first day. Apart from your almost collapsing balcony; the beautiful historical corniche street will be your biggest problem. Noise, pollution, and crowds of people waiting for a seat in the fully reserved microbuses will hinder you from enjoying your view of the eastern harbor. And if you're a resident of the city, this chaos becomes your daily life.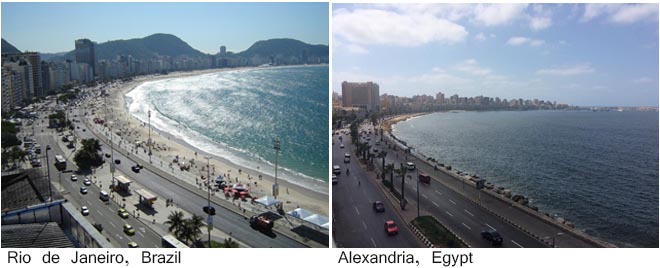 photos: http://www.ipostipiubelli.it/racconti-di-viaggio-brasile/ ; Abbas,M. (2017)
Rio, on the other hand, had developed an active street with its fantastic waterfront, open beaches, a walk-able street and two-directions bike way. Future development in Rio is going towards a better cycling mobility, especially cargo mobility, which is drawing more people to leave their cars. cycling tours for the city's visitors are also becoming more popular. Meanwhile, Alexandria had replaced part of its corniche with a multistory parking garage and car overpass, and the city is planning a new high way that covers El mahmodeya canal and totally remove the southern corniche and waterway. The development pattern is clearly going to favor profitable private enterprises and shaping the streets to serve them. That comes in the form of prioritizing car space (parking lots, car lanes, etc.) over the other uses (parks, beaches, walking space, etc.).
For that reason, I am currently doing a study (for my master thesis) to calculate the monetary value of cycling as a way of mobility in Alexandria replacing cars. Cycling benefits for the health, environment and individuals' expenses are widely proven, but how can you prove to the city that investing in cycling infrastructure has its profitable return?
In parallel, I am investigating the type of action can be taken from the private sector to push towards more cycling. Some businesses can flourish in a cycling friendly city (i.e. bike trade and maintenance, ground floor shops, mapping mobile apps, etc.). Others can push for more cycling mobility. A bike sharing system for instance can make the option of cycling mobility present on ground even with no streets planned for cycling. A student in Alexandria university would have an option of a bike ride or to queue for thirty minutes to get a free seat in the slow traffic. Safety is a question, but there is more alternatives for a safe ride in the inner city streets away from the major transportation corridors.
And more lessons to be learnt from the newly installed bike share systems in Marrakesh and Beirut (soon in Cairo).