For Economy App, it has been a time since the last update, with not much to say as we were programming away quietly. As always in software, we were chasing a moving target, always finding new software bugs to fix before our upcoming public beta test launch. And in addition, we had a dreading task before us: implementing the network barter algorithm for real. Because from our existing prototype implementation to a fast, scalable, real-world one it is usually a long way. And in the case of network barter, a technological challenge (since our prototype needed a whole night of calculations to find even the tiniest network deal in our simulation data.)
However, due to the collaborative power of open source software, we just made a big jump forward, saving us several person months of work


Meet our new friend COIN-OR, a solid and powerful free software library for mathematical optimization problems, provided by the mathematical science community.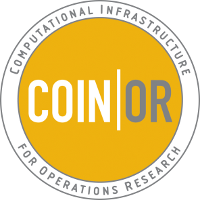 This development came about when my teammate Daniel found that network barter can be classified as a different mathematical problem: not as a match-making problem (as we did before, and is often done in related scientific literature), but more broadly as a deterministic linear discrete optimization problem. Which can be solved with Linear Programming. And that is what COIN-OR has the tools for.
So sometimes, looking at your problem differently is 90% of the solution

We have now an initial implementation running based on COIN-OR CBC, and it is 100-1000x faster and finds much larger network barter deals than the prototype we had before.
See below for one of the first network barter deals found by CBC. Notes on the graph:
circles are users, squares are product / services
red arrow means a user providing a product or service
green arrow means a product being received by another user
you can check that this graph shows a valid barter deal: for every user, the value attached to incoming arrows must be the same as the one for the outgoing arrows
orders not included in this network barter deal are not shown, amounting to about 3-4x the included orders
price quantization in 5 EUR steps is used, but no longer needed as we since found

Image credits: COIN-OR logo, copyright by the COIN-OR foundation and released under the Eclipse Public Licence (EPL).