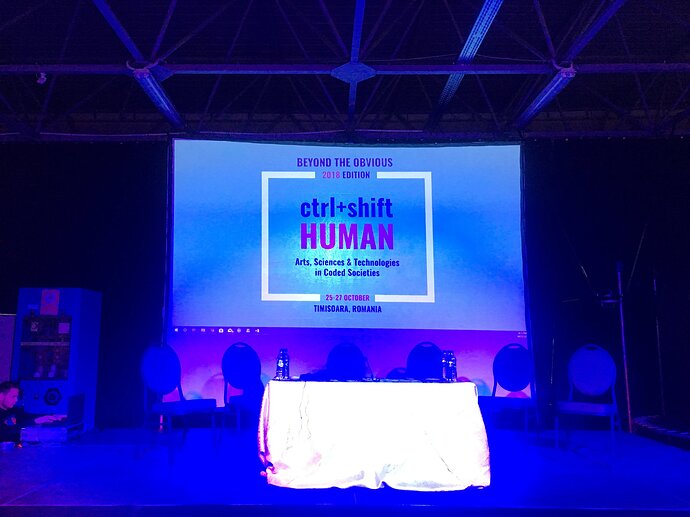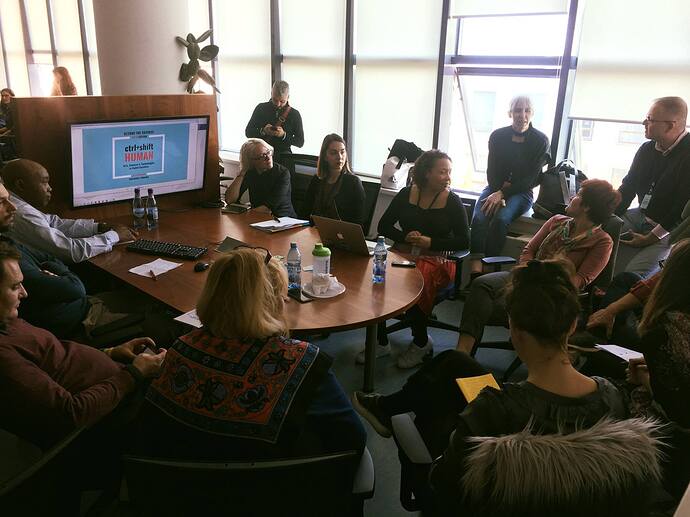 Last weekend Natalia and I went to Timisoara to meet Culture Action Europe, an established network of cultural advocates spanning many countries and areas in between policy and hands on artistic practice.
Their annual event Beyond the Obvious (BtO) was this year discussing the impact of technology and AI in our societies and online spaces. As expected, the consensus was that the problem with the AI is not the algorithm, the math behind it, it's the power it yields, and who gets to use it. From predictive policing to fake news and to FuckOff Google, we know businesses and governments are sitting on massive tech developments deployed in questionable ways. That threatens in great ways communities' wellbeing. We are all training sets to this invisible infrastructure. In a grim debate where organised citizens were discarded as a true opponent of giants, it seems we are leaving it to the humanities to question this, to filter things through critical lenses, as "engineers surely don't spend time doing this".
But technological advances can't be removed from their very birthplace: culture. That provides the context in which they evolve and the locus where they give back. It is culture which keeps on pushing collective imagination and the boundaries of what is possible. I enjoyed learning about the many interdisciplinary works connecting science and arts: city platforming via soundscapes, termoelectric body suits rendering human laborers obsolete, constructed humalgae and other beautiful bioart (Slovenian Spela Petric is one to follow).
BtO gathered many people from the institutional side of culture. I found myself in conversations deploring the need for more practitioner led sessions in the event, and a more collaborative approach beyond the rich showcase. For example, we know about the Pilot Cities network aiming to link cultural to social and economic sustainability, but perhaps the stories of some cities would shine more if their civil society and community partners, and not only institutional ones, would speak to what progress actually looks like.
Many initiatives present at BtO were supported through Creative Europe funding stream, a strong common denominator, perhaps more so than work in AI and data. The natural thing people seemed to do was to make use of their presence at the event to build new partnerships. We presented RebelVillage (slides here), our concept for an activist art camp that uses social technology in the preparation and ensures truly participatory culture building. The concept of the project can be found here. (Heads up: we're looking for host partners!)
Some people and organisations we are talking to in order to explore collaborations beyond:
Baltic Sea Cultural Centre in Gdańsk - we had a couple of chats with Lawrence Ugwu, the director of this cultural center, who was very much interested in inviting us to give a workshop at the next year's Baltic Youth Forum, as well as help develop new ways of doing artistic collaborations and community engagement. They also suggested they could host us. It's a state funded institution and they run a gothic cathedral, where they host artists and guests and organise events (we were invited to inhabit that space for a bit as well!)

Kultura Nova foundation in Croatia supporting contemporary arts NGOs - they would like us to deliver a training session on community engagement which would grow the capacity of the organisations that they fund.

We met people from Timisoara 2021 previous team (!) who had been heavily involved in the bidbook and are determined to roll out new citizen engagement projects, complementing the mandate of the current team and building on the community energies which they had helped build. Some are involved in the Faber community in-the-making for revitalising an industrial area. The next step is to discuss a RebelVillage edition mid 2019. Have a look here at the 900 m2 space (and 2000 m2 yard).
Overall, it's hard to say which are the best spaces our Edgeryders Culture team should be in. This being one of the first business trips, there are more lessons to be drawn in the following months, as we continue the conversations.
Images above by Culture Action Europe