[@Noemi's note] I was happy to connect with Emma Jones, who is in her words, a third of the We Mental Health Nurses team at WeCommunities, along with Vanessa Garrity and Mark Brown. This story serves as a first encounter with Edgeryders. It also includes written reflections by Vanessa.
WeMHNurses hosts regular mental health themed twitter chats, as part of a network chat calendar, with wildly diverse topics ranging from "The use of digital technology in everyday practice" to "Workplace democracy in mental health". The core team runs the day to day operations, on a purely voluntary basis, with the WeMHNurses account, also linking into the wider WeCommunities, which covers many different branches of Nursing and Health Care professions and specialism. Topics for chats tend to mostly emerge from topical conversations within the community or where there is, for example a national policy directive or key piece of published journalism relating to mental health. The community also run sponsored chats for national bodies such as the Dept of Health, Care Quality Commission and NHS England. The WeMHNurses team see their role as being about facilitating broader conversation in a democratised digital space, where everyone can have a voice, regardless of positional authority. The team also see their role as being to make national policy more accessible, in terms of the language being used. The community also has a particular focus on discussing the everyday implications of policy on mental health nursing practice.
The chats are generally facilitated by one of the @WeMHNurses team, with guests are often invited to participate in the chat where the person brings specific expertise to the conversation. This is an open process, whereby anyone can contact the team to suggest a chat topic or to ask to host a chat.The team provide support to individuals who want to host a chat from the @WeMHNurses Twitter handle.
Our ethos is very much that "your opinion matters" and we focus on the user point of view, getting people talking to each other and bringing a variety of perspectives to the conversation. We enjoy working with people who have previously been in services or are currently in services because we really value the lived experience perspective. As we are an independent voice, we will also cover topics that might be considered controversial, political or critical, as we believe that these conversations are important in setting the future direction for mental health nursing.
On reflection, we think that the liveliest and most informative chats are often where there is a real mixture of perspectives, including for example, clinicians, people accessing services, managers, leaders, academics, researchers and policy makers. The conversations that we have online are often very powerful for this reason as we can't think of many examples from our own professional lives, where there has been such a variety of voices in a room to debate a topic in such a level and democratic way. An example of this is a chat that Vanessa and Mark ran with the Health Service Journal, where we discussed the reduction of inpatient mental health beds across the country. This chat was very much brought to life by people sharing their experiences of how this impacted on them personally when they needed to access inpatient care.
The demographics for our chat suggest that we have a largely UK audience. However, because of the global reach of Twitter, we do have some international representation within our community and we love to encourage this because of the dimension that it brings to the conversation
Before we run a chat, we produce some pre chat information on the wecommunities website. This is generally written in a blog style, so it is broadly accessible reading. We are also looking at how we can make our chats even more inclusive, such as by providing audio for people who struggle to read or who have visual impairment. The challenge for us is that we are all volunteers, so we have to find ways of delivering information quickly.
How come this twitter format for talking about mental health? Is there something in the medium that helps learning, or alleviation for individuals?
As with everything there are always pros and cons. Some would say "there's only so many characters on twitter" and mental health can be a very complex topic to discuss with limited characters, especially when people are talking about personal experience. On the other hand, it can help you be more focused and concise in what you are trying to say.
I suppose using twitter to talk about mental health is quite personal, as is twitter use in general. There are many who find it hugely therapeutic and helpful, either getting involved in chats, communicating/ networking with others or for gaining support. It is a fab place for the sharing of information, including research and it's also a great forum for challenging stigma and moving the mental health agenda forward.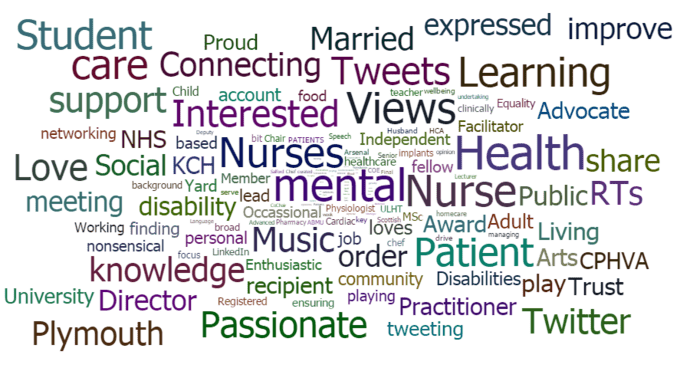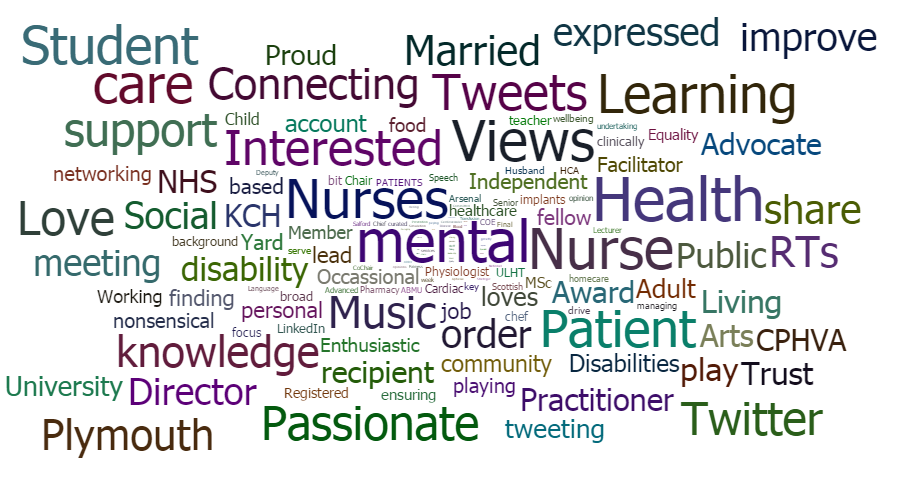 Wordcloud from participants twitter bios in a recent chat - source.
Is there a cutoff number for participants in a chat? Or a number that makes it effective? I'm wondering because you have such high regularity - every week.
There is not a maximum number of people in each chat, it can be anybody using the hashtag. Often people pop into the chat with just one or two tweets, whilst at the same time, we are having a conversation with other people, who participate in the entirety of the chat. When you are facilitating a chat, which is busy, it can be a challenge responding to every single tweet, but we do try to do this and often we find that people branch off and have separate conversations with other participants, within the chat, which goes down a different path to the structured questions of the main chat. Providing they still use the hashtag, we still capture this conversation in the transcript at the end. This is an example of the latest archived chat on a Tuesday evening, counting 133 contributors, 1200 tweets and with a reach of 7,561,098! This was a joint chat with @wenurses and @weldnurses.
With our over 6000 followers, plus the wider network, I suppose it is hard to say how many people we reach constantly. However, analytics for the chat are captured within the wecommunities website. Nick Chinn is the technical person behind this at Wecommunities.
What do you think draws people in? What makes it a community for you? Is it people interacting with each other, learning, figuring out stuff?
I suppose it is all of that. Everyone involved in the chats is interested in that particular area and that shared interest drives the discussions and questions in the chat, which will often support the development of links between people. Often people in the chats might say: 'this is a good chat', and 'why don't we do one on this other topic area?' It then keeps expanding, and there are more things that we get involved in. So, in essence, the community is about sharing knowledge and learning, being open to thinking in different ways and developing a support network as well.
What for the future and how can we support your work?
We are very aware that people establish relationships and friendships offline with people who they have connected with on Twitter and that these relationships are often a great source of strength and support for people. Vanessa and Teresa Chinn, Founder of WeCommunities organised an unConference earlier in the year, through crowdfunding, which brought together 300 people from the community into a physical space to get together and to debate and discuss the future direction of social media in health care. We also provided a parallel online agenda throughout the day, so that the twitter community could still very much be part of it, even if they couldn't physically attend. Vanessa and Mark from WeMHNurses and Mental Elf on Twitter are also in the process of setting up a Digital mental health conference service, which we are launching at #PDDigital16 later in November.