The Karlovary region (esp. towns of Cheb and Sokolov) at the very Western part of Czech, has been hit particularly badly by covid. Currently experiencing the highest numbers of deaths in the country, the medical staff and gov. representatives from the region have been crying for help for some time now. They describe an all-round collapse of their medical infrastructure, with doctors having to choose between who they let live and who die.
For several weeks, the neighbouring German states of Saxony and Bavaria have been offering help with transporting patients from the Karlovary regions to their hospitals. For the local population this did not come as a surprise, considering the close proximity and connection that people from both sides of the border have been sharing for decades.
This offer, welcomed by the local staff and population, has been however declined by the government. During his visit to the region last week, the Czech minister of health stated that "this is a matter of symbolic importance… [and] that the Czech Republic can take care of their citizens by itself". This generated a significant controversy in the media and among people from Cheb and Sokolov, who fall as victims to the neglect. For them, it is difficult to understand why the government prefers to spend high and unnecessary resources to transfer patients via helicopters to hospitals in other parts of Czech, often as far as 100km away, while the nearest hospital (just 10km away) offers its full aid. Unfortunately it happens to be on the German territory. Not to mention the inconvenience this will cause to the families of the hospitalised relatives.
As one of the locals from Cheb described, it seems that the government cares more about its PR than the lives of its citizens.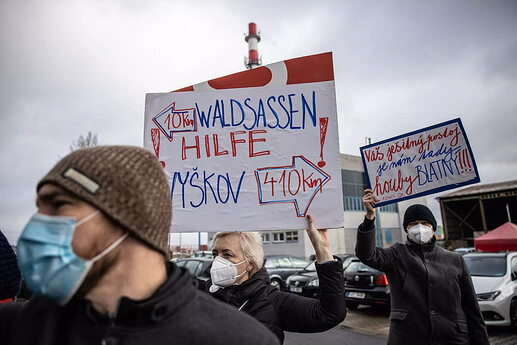 Photo Credits: Petr Třešňák
Second sign reads: "Your conceited view does not help us here Mr. Blatny (health minister)"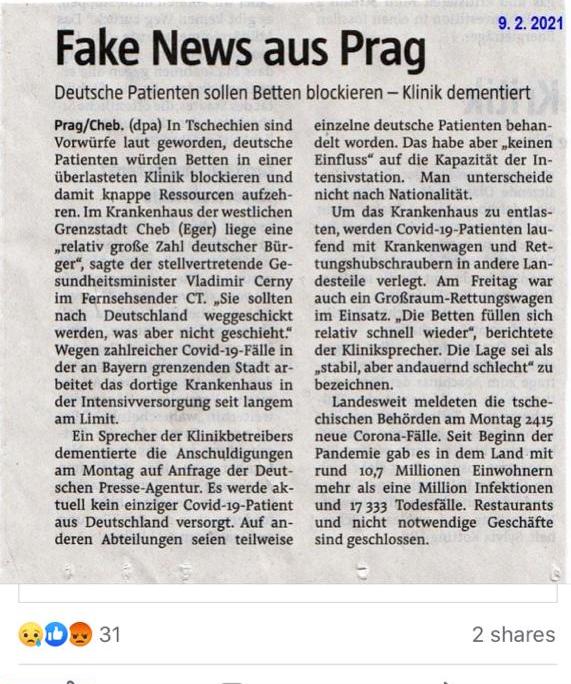 Points to explore further:
• Has this been covered by the German media? And if so, how? (I found this screenshot on fb, what does it say @Djan )
• People in the region have been signing petitions and protesting against the gov.'s decision to reject Germany's help. (see the photo)
-Might be interesting to follow this up and see what the wider opinion on this is from both German and Czech sides.
-I know someone living in Cheb, who might be willing to talk to me about this.
• Overall, I think this case generates some interesting themes for our project.
-I think I read somewhere that Poland also rejected Germany's offered help? @Maniamana
Let me know what you think