Written after the first periodic meeting of the ethnography team. It was dedicated to reviewing the very first iteration of the codebook for the NGI Forward study.
Ladies, color me impressed. It was fascinating to watch you work. In my interpretation, what's happening is:
The rationale for coding choices becomes explicit. Accountability of the research work increases.
You are now building small networks of codes in your heads, and using them as information structures to store ethnographic evidence in. The lovely bit is that these networks are open: they encode the possibility that parts of the corpus you have not yet coded might connect to them, thereby generating additional meaning by triangulation. Example: you said that the code regulating 5G should be split into regulation co-occuring with 5G, because other parts of the conversation might evoke regulating something else, for example recommendation algorithms. If this is indeed the case, you are able to see the discussion on regulation on a broader level, as regulation will then link to both 5G and with recommendation algorithms in the semantic network. At a high level of interpretation, this ends up allowing the space for regulation, as the community sees it, to emerge.
The Codebook is now on a GDoc. By doing this shoot-from-the-hip prototyping you are zeroing in on functionalities that future iterations of Open Ethnographer needs. The fact that you use them is a strong indication that you need them, as in really need them.
And speaking of this: @matthias, it seems the ethno team uses comments a lot. They took the trouble of rebuilding the whole codebook on GDocs, and it looks like this: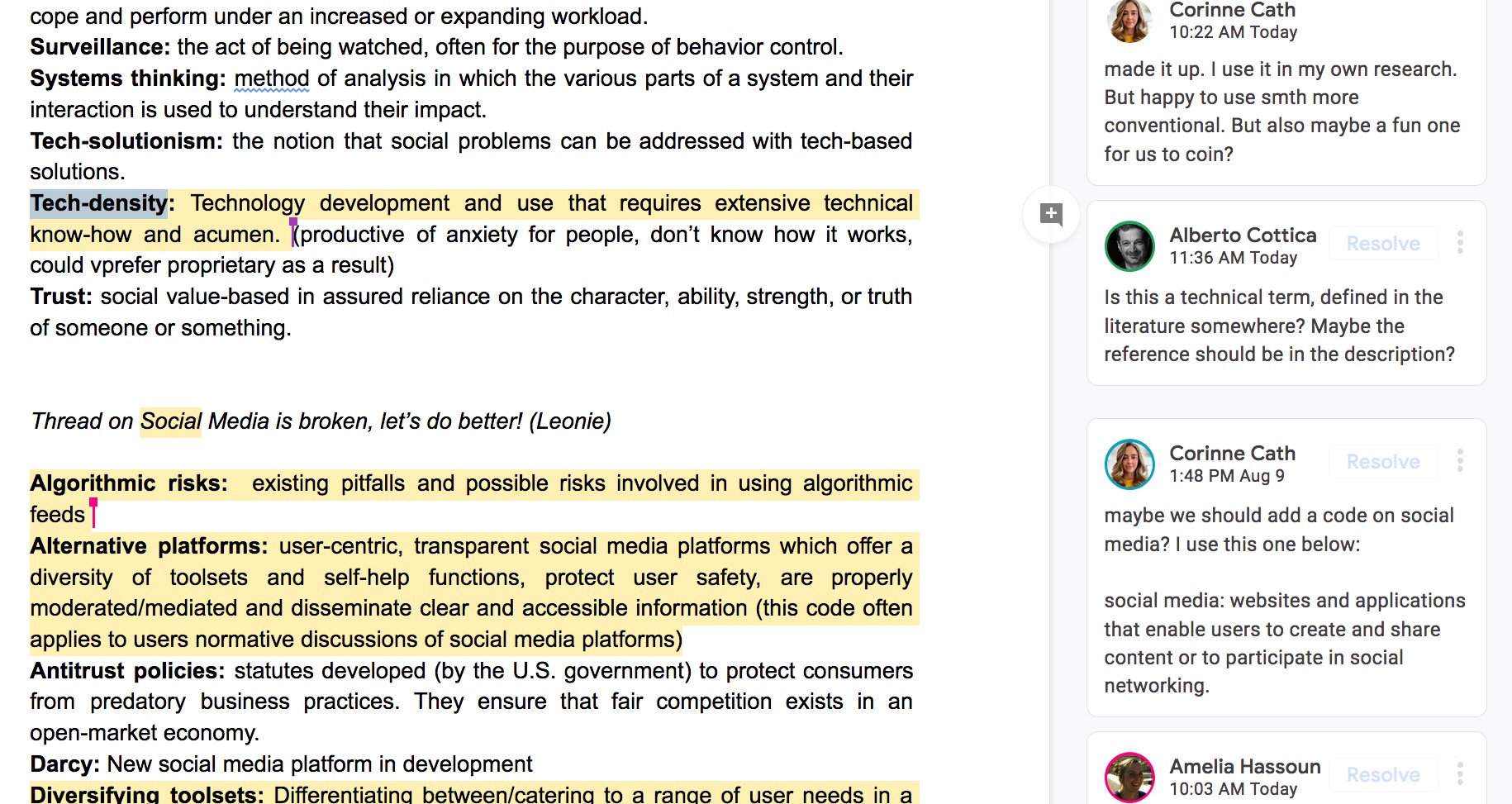 I think, however, that the codebook should be automatically generated by OE. The codebook proper is a list of codes (that are all in the database) followed by their respective descriptions (also in the database). Can we make them commentable? Or maybe just generate codebooks that can be exported?