A weekly online meetup for Edgeryders everywhere to catch up and scheme ahead over a cup of coffee.
This month's community calls focus almost entirely on getting better at collaborating with one another and ensuring that Living on the Edge: The Stewardship will be meaningful for all attending. It's our major event each year, and it tends to inspire breakthrough ideas, like the unMonastery.
Draft agenda for this week:
General updates: who's coming to Lote4 and ways to register last minute, travel grants, and budget issues with @Noemi & @Natalia_Skoczylas
unMonastery (not so) lite: establishing house rules and ways to communicate it. (see background discussions \#1 and #2) with @Bembo Davies and @katalin
Support in Matera: where are we on this? can food be a connector? can we host an informal public meeting before Lote4?
Making LOTE4 child-friendly – it worked well at Futurespotters! with @Alberto
...
What am I missing? Got something to propose on the agenda? Add it in a comment below…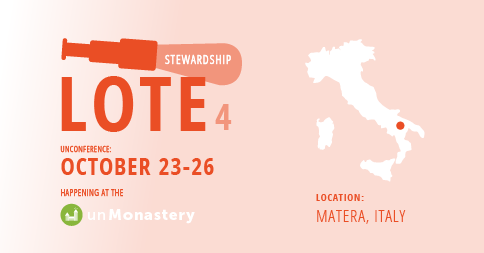 JOIN OUR GOOGLE HANGOUT, starts Thursday the 25th at 11 am, central European time (The hangout can host up to 10 people, so please confirm here if you're joining so we can manage the space)
Date: 2014-09-30 07:25:00 - 2014-09-30 07:25:00, Europe/Bucharest Time.