The team of Economy App (edit: now renamed Makerfox), one of the projects organized on the Edgeryders platform, wants to share a nice little success story with you all: the project just made it into the finals of the European Social Innovation Competition 2013! For proof, look at this tweet by @EUSocialInnov today: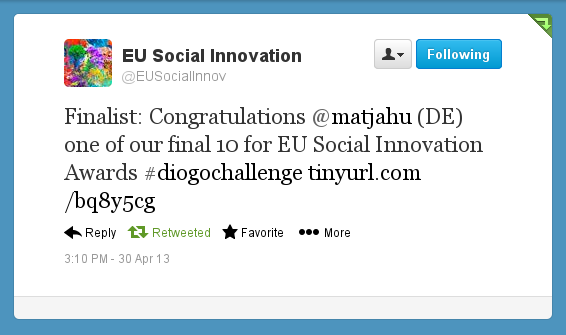 Be sure to check out the other 9 finalists, highlighted in the list on socialinnovationcompetition.eu. Quite a lot of citizen driven innovation to see there!
The European Social Innovation competition is a crowdsourcing effort by the European Commission "to find the best social innovation solutions to help people move towards work or into new types of work" [source]. It is named the "Diogo Challenge" in memory of Diogo Vasconcelos, an influential European social innovator.
So, thanks everybody involved for your support, ideas, feedback, voting etc.!
Now what does this mean for us? We have a nice achievement now that we can show in the news to raise more support, I guess

Plus we're going to Brussels at end of May for the SIC2013 Awards Ceremony, which will serve as a great networking event to encounter collaborations and support. We get one more day of social innovation consulting mid July. And we have a 3-in-10 chance to win a 20k EUR cash prize from the competition, which would be a great help to get our idea off the ground.