Egypt in Numbers is a Project that is aims to make government data previously published by the Egyptian government accessible and usable.
I want to move from the current website looking so hosting PDF's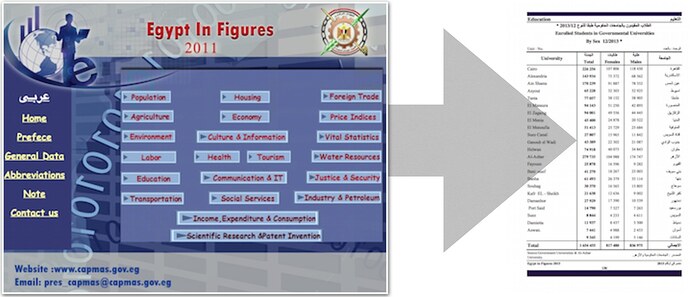 To a new website (Not pictured) hosting machine readable open format tables and browser based interactive Visualisations.

Details
CAPMAS - the Egyptian statistical agency - releases a wide range of statistics regarding various sectors publicly called Egypt in Figures. So far, they have released:
In the spirit of tools like
Mwazna
, I hope to do 2 things with Egypt in Figures:
Parse the PDF files to create machine readable (analysable) data files.
Create insightful Data Visualisations
So far I have parsed some files.
I'm also learning D3.js (an online graphic library) and attempting first visualisations. Check
here
.
How can you contribute
There are three ways:
1. 5 min: Check the work and comment: What could be different? What is not clear? What is missing?
2. 30 min: Logo?
3. 1 hour: Help creating a landing site hosting all the new data files. I am free to different concepts ranging from a simple aggregation to Links (Some style) to full-on portals aka CKAN.