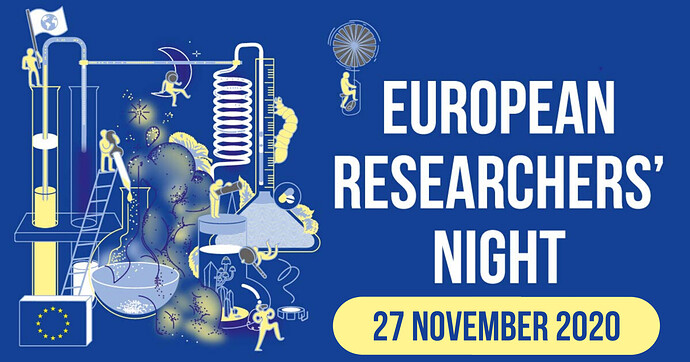 The European Researchers' Night, funded under the Marie Skłodowska-Curie actions (MSCA), is a Europe-wide public event that brings researchers closer to the public. The Night provides researchers the opportunity to showcase the diversity of science and its impact on citizens' daily lives, and to stimulate interest in research careers – especially among young people. The events highlight how researchers contribute to our society by displaying their work in an interactive and engaging forum.
In 2019, 55 projects were implemented. The projects took place in 433 cities from 27 countries across Europe and beyond. Over 1.6 million visitors attended the event and over 36,000 researchers took part – including 955 MSCA fellows!
In 2020, the European Researchers' Night will take place on Friday, 27 November. More information about this year's event will be available soon.
WHO CAN APPLY?
European Researchers' Night grants may be awarded to any legal entity established in an EU Member State or Associated Country. Legal entities involve the coordination of activities between local, regional, national or international partners.
Possible beneficiaries' profiles may include private and public research organisations, companies, public authorities, schools, science museums, parent-teacher organisations, EU mobility centres for researchers, foundations or the media.
WHAT CAN BE FUNDED?
Any activity or event that boosts public awareness of the positive role of research in society – particularly among young people – is eligible for funding.
EU-funded researchers are encouraged to contribute and interact as much as possible with visitors by displaying their projects and promoting the use of research.
WHAT DOES FUNDING COVER?
The funding covers any expenses linked to the organisation of a research outreach event . It can cover the preparation of such event, on an awareness campaign, pre-events, the event itself, and the assessment of its impact. These activities may include:
hands-on experiments conducted by researchers
science shows with public participation
debates
"researchers' speed dating" (meet researchers and ask them questions)
competitions (such as science quizzes, games, puzzles, photo and art contests, etc.)
workshops for children
science slams
guided visits of labs, research institutes, and other relevant places that are usually closed to the public
The value of grants varies according to the scale of the events proposed.
WHO DECIDES?
All projects are selected through an open, independent and transparent evaluation. The competition uses a series of pre-determined criteria (listed in the call for proposals).
HOW DO WE APPLY?
The call for the 2021 edition of the European Researchers' Night was published on 1 October 2020. The deadline for applications is 12 January 2021. All the information to apply is available on the Funding & Tender Opportunities Portal.
The European Researchers' Night's call is available via the "Get funding" page of this website.
VISIT THE EVENTS!
…as 1.6 million visitors did in 2019!
In 2020, the European Researchers' Night will take place on Friday, 27 November. More information about this year's event will be available soon.
Learn how research is fighting cancer, stopping global warming, preventing hunger and drought, improving technology to assist disabled persons and tackling challenges for life in space. Meet researchers and discover the fascinating work of science in a fun and interactive environment – with family, friends, your school or on your own.
ping @marina and @alberto
@nadia maybe something related to your planning activities