site:
  title: Campaign Template
  template: Campaign
  lang: en-US
menu: 
  anchor: true
header:
  image: https://i.redd.it/x5zojh91awfz.jpg
  social: ['url', 'twitter', 'facebook', 'linkedin', 'email']


Campaigns
---
Progressive Governance Digital Summit - June 15-19
Link2
Link3{style="background: #EF5D3B; color: white"}
Resilient Livelihoods and Behavioural Adaptation to COVID: What can we learn from the strange economy of the Messina district and other case studies?
Messina is a small city in Sicily, overlooking the eponymous strait that serves as the island's gateway to mainland Italy and Europe. Sicily's economy and society have long been crippled by high unemployment, inefficient public services, corruption and organized crime. Yet, over the past decade so, a small cohort of about 120 enterprises in Messina, working closely together, have managed to build a solid, long-termist, fair, human-centric economy – and achieve stability and prosperity in the process. They call themselves "the Messina advanced cluster".
In this listening session we will present this and other case stories of creative responses to economic and social crises. We will look into the challenges they faced and enabling conditions that enabled them to thrive. Using them as a point of departure to reflect together on what we can put in place now to better equip us all for the transition to a green, inclusive and resilient local economies.
---
Format
7 minute presentation followed by 60 min open, moderated discussion. A moderator will give the floor to people who want to contribute something. Some have already volunteered (see list below, updated continuously). If you want to share your point of view, use the call's chat to let us know, and the moderator will give you the floor. If you have a question to ask the speaker, ask it in the chat (better) or let us know you want to ask a question. Questions are taken before we move on to the next speaker.
---
When
Tuesday 16 June, 17:15-18:30 CEST in the framework of the 5 day long Progressive Governance Digital Summit 2020
Coordinators
Nadia El-imam, co-founder Edgeryders will do the 15 min presentation of the case studies in English. Participants will recieve translations of the presentation slides the day before the event.
Daniel Hires: German Community manager for Edgeryders will moderate the discussion in German and English
---
Specially invited participants:
Frank Boons, Prof of Innovation & Sustainability, University of Manchester, Director of the Sustainable Consumption Institute

Climate-Kic, tbc.

Alberto Cottica, co-founder and Research Director at Edgeryders

Examples from different communities/sectors (from the Edgeryders community)
About Edgeryders event method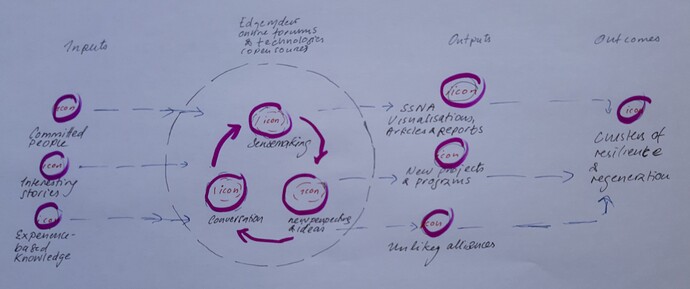 A 2hr process of online activities that accelerates offline activities.
Discussion
The EdgeRyders events process begins when an idea or solution is posted on the platform, sparking discussion among community members. Some join in, actively listening, asking questions or giving thoughtful responses. (This is a safe place and not for debating opinions or speaking for others.)
The discussion begins with first hand accounts of attempts taken to solve societal issues and moves to navigating the personal challenges experienced by members. Nuances and the various different contexts surrounding these challenges begins to show.
Information analysis
Next open source technology is used to make connections between topics being discussed, the people discussing them, places, projects, solutions and struggles. When we put this together, patterns start to emerge that help join these ideas and people to each other and to other information, skill and resources.
By the end of the process, our community members have gained a richer knowledge and understanding of the issue they wish to tackle and have a blueprint to put their idea into action.
What comes out of it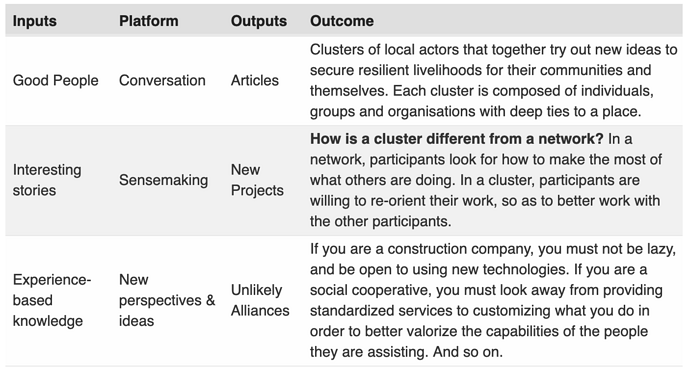 What participants do: 2hrs
The process with require 2 hrs of your time in total , spread out over a 3 week period:
Fill in registration form ( 5 mins)
Participate in the video chat ( 1.10 hr)
Leave comments on the forum sharing your thoughts ( 35 min)
Optional (+ 1. 5 hr): If you want to be involved in new opportunities for working and fundraising together with others - you can come to the follow up call to explore ideas for collaboration born out of the process + do some follow up work
How to participate

Form Example
Your City
Your Country
Your Personal Site / LinkedIn profile
Please provide 2-4 sentences about your life experience as it relates to your domain, or anything else you would like to add. (Optional)
Would you like to also subscribe to our newsletter?
Would you like to receive occasional updates?
About Edgeryders
The Edgeryders organisation was created in 2012. Is an international community consisting of 5000 members in 80 countries. It's members mostly interact through and an open source digital platform with it's own custom made digital tools for large scale dialogue and coordination, as well as through community events such as workshops, conferences, retreats and festivals.
Notable members: Robin Chase, Founder of Zipcar, Amelia Andersdotter former MEP for the Swedish Pirate Party and Digital Rights activist, Fabrizio Barca - Ex General Director of division chief at the research department of the Bank of Italy, Chief of the department of development and cohesion policies at the treasury with previous tenures as chief at the research department of the Bank of Italy,and the president of the OECD's territorial policies committee.
Mission: Support a diverse groups of people with the relations ships, information, knowledge, tools and opportunities to accelerate the transition to a greener, more equitable and humane society for all.
Born out of Council of Europe Research project on social cohesion at the Council of Europe, an international organisation which houses the European Court of Human Rights, which enforces the European Convention on Human Rights in Europe. It's stated aim is to uphold human rights, democracy and the rule of law in Europe.
It is supported by a not for profit company with the same name registered in Estonia. The company is stewarded by 6 directors based in Belgium, Germany, Sweden and the United States.
The company develops its own technologies, methodologies and insights through academic research cooperations with leading Universities.
Current and Previous Partners, Clients and funders include: University of Bordeaux, City of Matera, City of Galway, City of Milan, City of Amsterdam, Stockholm School of Economics, Nesta, Aarhus University, EIT- Climate Kic, World Bank, UNDP, European Commission and the Rockefeller foundation.