ezelab
Early this year the ezelab team bought a large aluminium block, the main building block of a self-built CNC router, a computer controlled woodworking tool.
After a long search, he sourced one in El-Sabteya, Cairo's largest scrap iron market. The block travelled to Mansoura, back to El-Sabteya, around Cairo and then back to Mansoura in a failed search for a professional carve to specific dimensions. The team searched the Internet for DIY-tutorials, learned the necessitates and successfully carved the block on their own after a month-long odyssey. All they needed was a simple abrasive saw, some WD-40 and patience. They spent twenty times as much money trying, and failing, to get it carved compared to carving it themselves.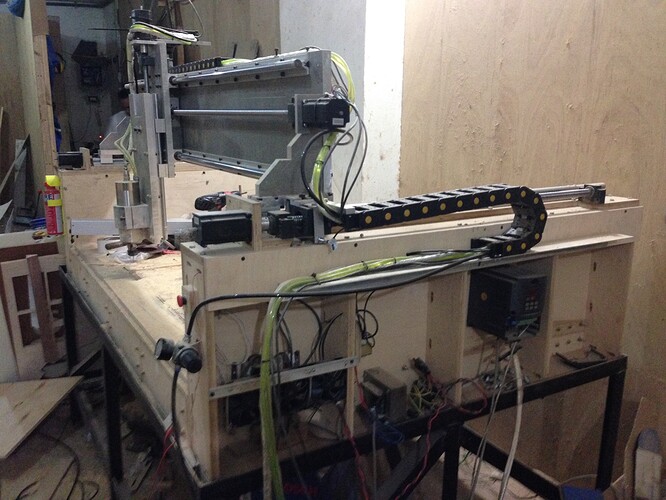 The self-built CNC router, with the alluvium block in question in a vertical position
In the following Interview I sat with Ahmed Hashish, Kareem Nagy and Mu'taz Mutawea in their Mansoura office to discuss their budding startup ezeLabs and plans for the Mansoura FabLab.
I arrived in Mansoura by train, 150 km away from Cairo, at 10 in the morning where Mu'taz picked me up. The ezelab office is a basement in Mansoura's toreel district, a street away from city hall. We descend the stairs to the basement, which consists of 2 sections: The office with 2 desks each lined up with 2 computer monitors and a larger working table. A door separates the office from the much larger workshop which houses woodcutting machines and a CNC router, a computer controlled woodworking tool. The floor is filled with wood prototypes and unprocessed input materials.
What is ezelab? Where is the Mansoura Fab Lab?
We are currently in transition period, where we want to move to a new larger space. We are leaving this basement by August, and as soon as we settle in we will launch the Mansoura Fabrication Lab. All the ingredients are there already: We have a complete set of tools, ranging from the smallest screwdrivers, chip soldiering equipment up to our 2 meter wide CNC router.
The Mansoura Fab Lab will be incorporated as a new business intended to be a for-profit company. Currently, we are operating under the ezelab brand and legal structure. Ezelab is a Sole proprietorship registered by Kareem. He started it years ago selling commercial software.
What products does ezelab currently produce?
So far we have only marketed and sold the EZE VR, a virtual reality cardboard kit which is based on the Google Cardboard. It is a DIY kit where you create your own virtual reality headset using your smartphone.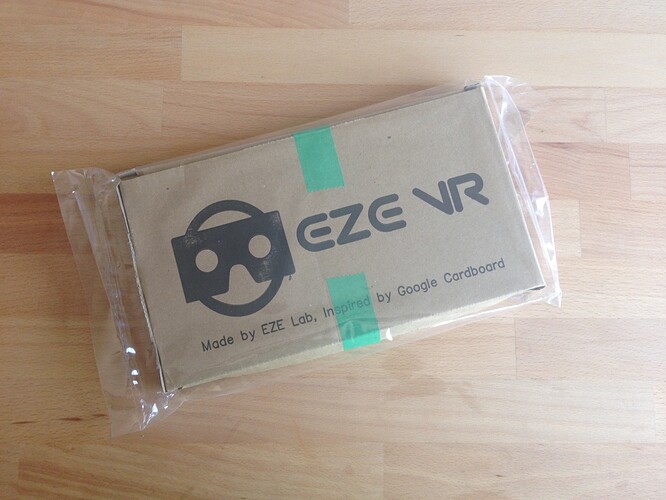 Ezelab also built a digital water fountain, a computer controlled water plotter wall that displays graphics, patterns and texts. Water drops fall down and serve as pixels, and so create a graphical waterfall that scrolls downwards continuously. Currently, we are developing an updated version of our fountain, which we will market under the EZE AQUA name.
Finally, we are planning to launch the Fabrication lab, where we will design and build custom made designs and computer controlled objects.
How did all this start?
Kareem Nagy stumbled on the idea of a digital water fountain on the Internet in 2009. He was struck by it, and contacted the Japanese manufacture for a quote. The Japanese responded with an extravagant cost, so Kareem decided to pursue its construction singlehandedly. Relying on the Internet, Kareem downloaded designs and understood the basic mechanics behind digital water fountains and started building his own. It took Kareem 2 years until he had a working prototype.
In 2011, Kareem first met Ahmed Hashish, whom he had hired to photograph his now finished digital water fountain professionally. Ahmed was particularly awestruck with a CNC router Kareem had built, with the purpose of custom building parts he could not source within Cairo's bustling markets. Such as a control board for the water plotter. Ahmed was awestruck with Kareem's hacker-ethos.
Prior to meeting Kareem, Ahmed had worked in a forward-looking bookshop in Mansoura called Box n'Beans, where he often had conversations with Mu'taz Mutawea about the environment and urbanism. Ahmed resonated with Mu'taz's theories about how Mansouras small size and physical proximity of everything was more conducive for productive communities to develop. He arranged for Mu'taz to meet Kareem, and soon after the three decided to work together.
Ahmed: From here on everything started progressing quickly. We all met together in April 2014 and started discussing the possibility of creating a creative space in Mansoura. By October 2014 we started operations under the existing ezelab brand. With operations I mean sourcing, assembling and selling the EZE VR, building our new large CNC router and general preparations for the Mansoura Fabrication Lab.
What is the thought process behind Mansoura Fabrication Lab? What is your objective?
Look at Egypt and you will find a net importer of goods with all it entails. We have a problem in that we rely too much on trade and are too dependent on foreign currencies: The exchange rate deteriorated by 40% since the revolution in 2011. Still, importers have to find foreign currency in the first place and are subject to supply constraints. The black market commands even higher premiums. Arbitrary executive orders and customs procedures add to the hassle of imports. I reject this dependancy on factors outside of my own individual agency, and believe in manufacturing locally. Another problem I see in Egypt is the mentality of traders concerned only with finishing the sale and the quick buck, where quality concerns and the value proposition are often ignored.
Personally, I was planning on emigrating Egypt for Australia around 2009. I changed my mind due to the revolution and took a decision to stay. Simply taking up on some office job or the family trade would not have been fulfilling, I reject these engrained hierarchies. Since we are forced to find a way to adapt to local conditions we stumbled upon the idea of a Fab lab. It is not some sort of charity or place for common good, but rather an active decision in our long-term goal of being sustainable and scaling up in size.
Our core philosophy is building our own tools and independence. The EZE VR is sourced locally as much as possible. The EZE AQUA relies on a components a self-designed electrical control board and on parts carved by our own CNC router. The CNC router in turn we built ourselves, as we needed it to be a specific size to be able to supply the required EZE AQUA parts. The Fabrication Lab will support our long term shift to building more complex and specialised objects
Independence from exchange rate constraints, arbitrary regulation, undeserving suppliers and funding limitations is a core tenet. We strongly reject companies and initiatives that are dependant on finite donor funds.
What, other than money, could help you in your work?
Sharing Knowledge is very important. Everything we do is based on knowledge share by others: The cardboard design open-sourced by Google, the design manuals for the digital water fountain etc… Even more important is integrity in sharing that knowledge: Particularly in marketplaces tips are often misleading. Some traders purposefully send you on false trails or to subpar places. I'd rather not know then learn something wrong.
Access to self-motivated people to hire is equally important! Teamwork and collaboration are very important traits to have and learn.
How do you fund your work?
We are entirely self-funded so far, bootstrapping our way towards maturity. We have invested a combined 300K EGP, primarily in equipment and input materials. Wh anticipate rent for wherever we move to next to play an important role in costs as well. So far, sales from the EZE VR kit are our main income source and have covered a part of our operating expenses. We have sold 1600 pieces at 45 EGP a pop.
How did you build the EZE VR?
The EZE VR is built and assembled in Egypt. It consists of a cardboard construct, two lenses, two magnets and miscellaneous components holding everything together. The cardboard, its cutting and printing is done at a local printshop here in Mansoura. We import the magnets and lenses from China, as we couldn't source high quality components locally. Then, we hired three of our friends from university to help us with assembly.
We follow the open source specifications and design published by Google religiously, and are the most competitive offering. The EZE VR is 40% cheaper than the cheapest Chinese import, and is of a quality level more common to VR kits more than twice the cost!
Who are your competitors? What alternatives exist?
We are the only ones producing Virtual reality kits in Egypt, everything else on the market are Chinese imports. When we start marketing the digital water fountain, we will be the first to market and the only ones manufacturing in Egypt.
There are equivalent Fabrication Labs in Cairo and Alexandria. We will be the first Fabrication Lab elsewhere, and the only one for now. In fact, for Mansoura, we will be unique in offering a space open to the public in this way. We believe that our Fabrication lab, once opened to the public, will take on the roles of a Hacker-space and co-working space as well, as none exist in Mansoura yet.
Do you engage with the wider community?
So far not. We have barely done any marketing for the EZE VR, nor discussed the upcoming Fabrication lab with people. For once, there is no relevant community in Mansoura, which leaves us with engaging with Cairo and Alexandria. We kept this at a minimum, as we prefer to launch first and talk later. I come from an art background, where community engagement and marketing are exaggerated even before many initiatives launch; where most talk is hot air.