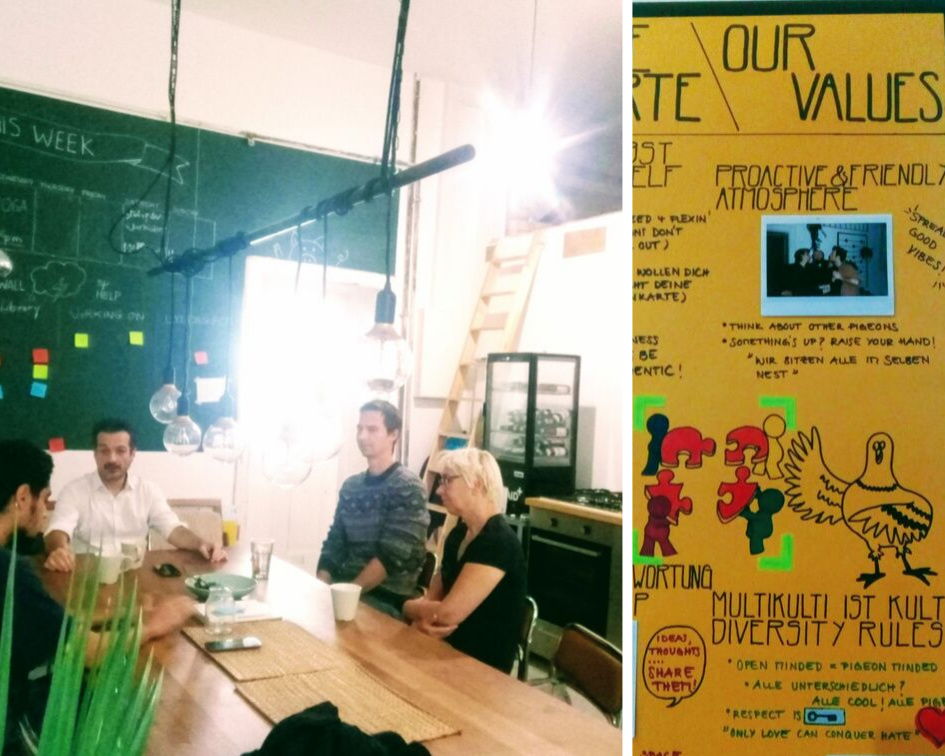 The other day while in Berlin, @alberto and I met the lovely folks at a co-living and co-working space in Prenzlauer Berg: Kai Drweck, one of the co-founders, and to our surprise, @hazem who is just starting work there as a community manager!
The group owns two buildings and since two years, they are offering private rooms for both short term and permanent rental to people who are not just looking for a living space, but are community oriented. In the space we saw, the rooms are on the upper floow, and a large kitchen and a public co-working space are downstairs. The kitchen is large and friendly, as one would imagine it best serves a growing community. Notice boards and value boards are all around, as one would imagine they support group organising. The co-working space is open to others from the neighborhood who are able to buy affordable membership. We liked that it acts as a front shop for the community - it opens to the street, and you can almost just walk in! It is also a mixed use space, working by day and enjoying other activities in afternoon and evenings - yoga classes, open days, or other events.
This ensures a very nice mix between those living there and those wanting to hang out.
What I liked the most is this focus on community first, in the midst of a growing market for co-housing this really can make the difference! No more residential hotels, thank you very much WeWork!
Way to go Kai and team!
If you're in Berlin next time, make sure to drop by. Learn more about Happy Pigeons from their site: