I just discovered a new feature of Bookmarks, added by the Discourse devs and brought to Edgeryders, I imagine, by an update. Now you give can each bookmark a title, and above all set a reminder for each bookmarks.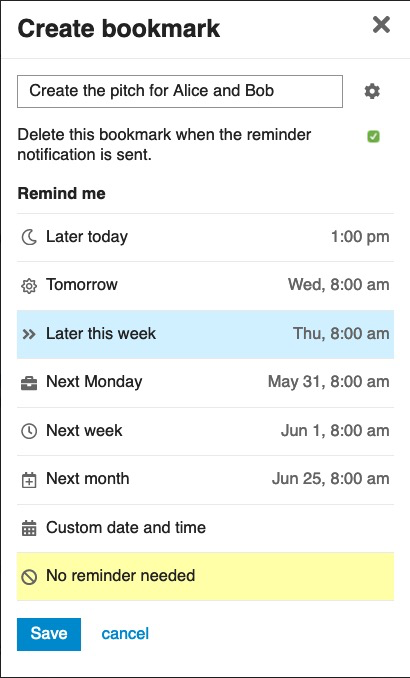 Use case: I need to sit in a meeting to pitch a client. Someone posts a topic with relevant ideas or other material. I don't have the time to process it right now, but can bookmark it; use the bookmark's title to remind myself what I want to use the topic for; and set a reminder. When the time comes, Discourse sends me a notification. If I only need to use the topic once, I set the bookmark to delete itself after sending me the notification.
This is very cool. I have almost stopped using bookmarks because they accumulate into a superlong list that I cannot do anything with. But now, I can use them to organize my work flow within Discourse, with no need to use task lists or calendar events. For more information, see the announcement topic on Meta.
A person on that topic had requested a feature to be able to share bookmarks. I did that too, because it would be superuseful to set reminders for colleagues. This could potentially get us out of Google Calendar.
FYI @company