My name is Kei Kreutler. I'm relatively new to the Edgeryders community, and I've been living at the unMonastery Matera prototype since mid-February, working on establishing a node of OpenTechSchool.
Coming from a background in a range of areas from visual arts to computer science, I strongly believe that knowledge in any form - from skills grouped as "technical" to more "creative" practices - should be accessible. Often all it takes is interest and a fun, supportive and socially engaging approach.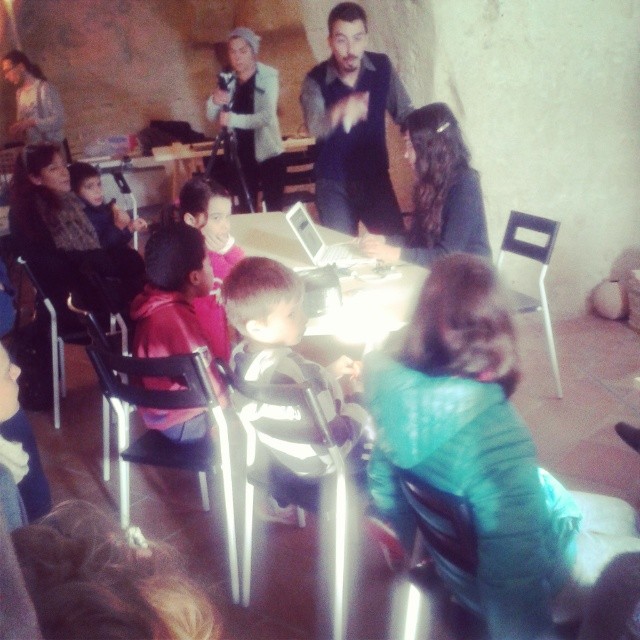 Instagram from OpenTechSchool workshop for kids on Arduino Day.
With OpenTechSchool, I'm hosting a series of workshops on topics in which people in Matera have communicated interest. While initially taking an open, project-based approach, I've found it helps to offer concrete topics of interest and take specific project development from there.
However, it's been difficult to get off the ground, despite hosting several workshops a week. Ultimately it takes some time to establish a school, let alone one development project, in the space of 2 months. Specific challenges have been the English-Italian language difficulty and the lack of a clear and targeted channel(s) of communication.
I'm posting here a series of workshops I've planned for the next few weeks that aim to incorporate some of the interests of Materani, as well as bolster projects initiated at the unMonastery, including unMonastery Analytics and the Mapping the Commons collective effort.
It would be of enormous help to have the workshop descriptions and call for collaborators translated into Italian so that I could make a clear communication push and share the calendar. Of course, any contributions and suggestions to the workshops would be more than welcome!
Thank you for your help. I greatly look forward to getting to know the Edgeryders community more and lending a hand in turn.

---
OpenTechSchool Matera workshop topics
Open Studio
Come enjoy the weekend at an OpenTechSchool Matera studio session. Bring your plans and ideas, and we'll give you the technical support to realize your projects. Whether it turns into a hackathon, a paper prototyping session, or just a way to get your ideas on paper, come by the unMonastery!
Have data? Visualize it!
With terms like big data, data-driven journalism, and open data getting lots of attention these days, it's time for you to see what it's all about! If you have data of your own - whether it's accounting spreadsheets or Facebook data - bring the files, or use the unMonastery analytics to learn data visualization. Using technologies like Gephi and D3, experiment with giving your data easy-to-read meaning.
Create your own website (previously translated)
Want an online portfolio? A website for your project? A blog to talk with friends? In two workshops, get a website online and learn how to customize it to your needs. Learn how to get a website up and running, and customize your site to host content like images and videos. Workshops are free and open to anyone. While a few laptops are available for use, please try to bring your own computer. Workshops are held at the unMonastery, which is located at
Learn to Geo-Map!
As part of Mapping the Commons(link) collaboration project, attend this workshop where we'll go over three different techniques of mapping, using OpenStreetMaps and applications like Ramblr. Easily add media, like video and sound, to your favorite parts of Matera, or trace your favorite walk through the city. In two weeks time, there will be a follow-up workshop to upload everyone's data to maps of the city!
Collaborate—the open source way!
An introductory workshop on Git and using GitHub, the destination for open source software collaboration. Learn how to host your works, contribute to others' projects, and use command line!
Arduino workshop
Collaboration with @Marc.
Mobile app development
Collaboration with Viral Academy, @fortyfoxes, and @K.