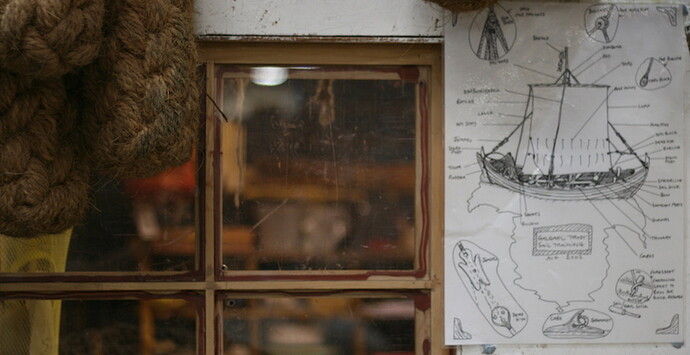 Tell us what you are doing to get #openvillage tickets, fellowships and more!
What is it that creates the conditions for an environment of open care? Gehan Macleod proposes a session at OpenVillage to tackle an important question that goes beyond the field of preventative or wellness care by asking "how do we understand the architectures of love that are called for to create a more care-full society?"
Gehan is the co-founder of the GalGael Trust, an organisation of social solidarity based in Glasgow, Scotland. Taking its roots from a communal protest camp against a planned motorway in the local area, the trust developed into a community building effort involving craft-making, rural event organising, boat building and timber work.
Through her experience with the trust, Gehan proposes a session that explores the conditions, or as she empathetically describes 'the architectures of love', that can foster an environment of open care in communities.
"My work through the GalGael Trust based in the Govan area of Glasgow has offered some hints that actively generating a healthy culture is perhaps more effective in achieving in an anchored way the 'good intentions' of policy. Strong values guide actions, decisions and behaviour, influence language and how we treat one another. Our workshop sees people working, for the most, part side by side."
Evoking an important thematic tension between policy and values, Gehan condenses her question to an essential perspective, asking what foundational parts of a culture contribute to a caregiving society that go beyond formally enforced policies. Read more about Gehan's session proposal here.
OpenVillage Festival (Oct 19th - 21st)

As part of our preparations for the OpenVillage Festival we are discovering how under-the-radar projects could be better supported in an ecosystem.
By October 19th to the 21st we aim to:
Engage existing initiatives in telling about the practical challenges they are facing
Validate them through open discussion, both online and offline, to understand the full scope of how alternative care systems are coping with the needs of citizens living the very effects of bad climates or policies
Demonstrate / Exhibit projects and concepts in a format immediately useful to practitioners, economists, policymakers and any interested parties working on similar grounds.
How you can contribute
Explore the stories that others have shared and leave thoughtful comments.
Tell us about your own care-related experiences and projects. Where are some things you have tried to do in the past, what are you doing now.
Build a proposal for a demo session / exhibition at OpenVillage. You will deliver a practical, hands-on showcase of a project connected to migrant care. Tell us what support do you need to make it happen
Open a new document and write down what you are doing or have learned. Don't worry about getting it "right" in any way - this is a no judgement space. When ready, login to edgeryders.eu and upload your contribution through the "add my story" button.
Good For You
When you post you will get a ticket to OpenVillage: Meet the OpenCarers. When you post you become eligible for the Open Fellowship.
Good For Everyone
Your input goes into the OpenCare research project - the findings are shared in the form of a report which we hope will be useful for everyone interested in care for the 21st century.