"Most of these old businesses are, like Ichiwa, small, family-run enterprises that deal in traditional goods and services. But some are among Japan's most famous companies, including Nintendo, which got its start making playing cards 131 years ago, and the soy sauce brand Kikkoman, which has been around since 1917."
This morning I came across a story about a Japanese Mochi business that supposedly has been operating for 1,020 years
It got me thinking about time.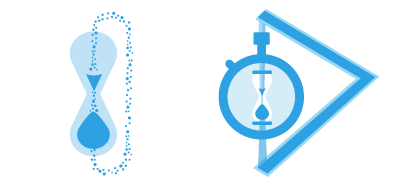 More specifically how our individual and collective perspectives on time affect our discussions and decisions around technologies in our lives, our work, society, planet…
It took me back to a series of conversations @thomasviscom @noemi were having in 2014 on how our individual perspectives on time affect our work, health and well-being. We discussed the work of psychologist Prof. Philip Zambardo: His research on the psychology of time perspective focuses on "the ways in which individuals develop temporal orientations that parcel the flow of personal experience into the mental categories, or time zones, of Past, Present, and Future, and also a Transcendental Future (beliefs about a future life after one's death).
He is especially interested in temporal biases in which these learned cognitive categories (Past, Present and Future) are not "balanced" according to situations, contexts and demands, but one or another are utilized excessively or underutilized".
Ok so what does this have to do with future of the internet stuff?
I'm not sure. Could just be mental chemtrail but it interests me, so I thought I'd share - see if anyone else is interested in playing with it…
When it comes to discussions that involve internet ( infrastructure, technologies, businesses etc), I often get a feeling of being stuck in strange now-space where everything is supposed to be moving fast, but is somehow not moving at all.
I couldn't put my finger on what was bothering me about this till @hugi brought me along to a fascinating lecture at the Long Now foundation by an archeologist who had explored the evolution of the ancient silk road (Hugi can describe it better).
Hanging out hung out with archeologists like @sander explodes open the context because things look so very different from a distance of 10,000 years.
The choice of what time perspective we adopt by default is not neutral. It encodes a whole set of values.
In the discussion around what path Europe should take into the digital future, the choice seems to be between authoritarian surveillance-enabled control (China) or Feral capitalism (US).
Perhaps it is rather a time perspective question? Is there a European perspective on time?
Do feel free to share your own thoughts in a comment below! It's hard to think about this stuff solo…