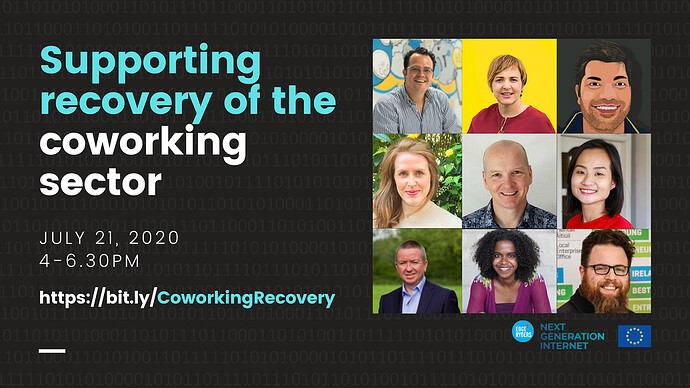 Dear friends and family
It's been a busy week for us at Edgeryders this week as we prepare for our coworking event that's taking place next week.
Earlier in the year when we began to realise the impact that Covid-19 would have on our societies and economies we asked ourselves what we could do to help each other.
As an organisation that works in a distributed way and has created our own online coworking space, we quickly asked ourselves how we could help with the recovery of the sector and began to curate an event.
And so on Tuesday 21 July (16:00 to 18:30 CEST), we will be bringing together key industry figures and the wider sector participants for our summit event that will explore 'How to support Recovery of the Coworking Sector'.
With more and more organisations beginning to realise the merits of remote work during this pandemic, we really do see the importance of a stable coworking sector that can facilitate and support our future.
We have curated an event that speaks to everyone; whether you own or manage a co-working facility, have a flexible workforce or you're an employee or freelancer that works remotely or intends to in the future, we ask you to sign up here, if you haven't already.
What can you expect?
It's an Edgeryders event so we will be asking some hard questions throughout the day. One of our speakers, Nacho Rodriguez, who is the founder of Coworking and Coliving Canary Islands penned a piece for us. He talked about how future technology such as 5G will enable these spaces to work effectively in rural areas and have a positive socio-economic impact on areas that previously didn't attract industry and jobs.
Speaking of new technology, Erin Westover works for Upflex, a company that is creating a new app that lets a user know where and when there is a coworking space available near them.
"Instead of having an office building for 200 people in the middle of Manhattan, why not allow for people to work in Williamsburg and work in Brooklyn and not have to take the trains right into the city center. Right?" she asks in a post on Edgeryders.
You can expect more conversations like this on Tuesday - our event and platform will also give people in the space a chance to network through the platform and introduce yourself to our other speakers like Gary O'Meara, Mayur Sontakke, Jamie Orr and Faye Alund.
If you want to join the summit just sign up here and introduce yourself in the event forum or comment with your thoughts on one of the speaker's articles.
Have a good weekend,
Edgeryders