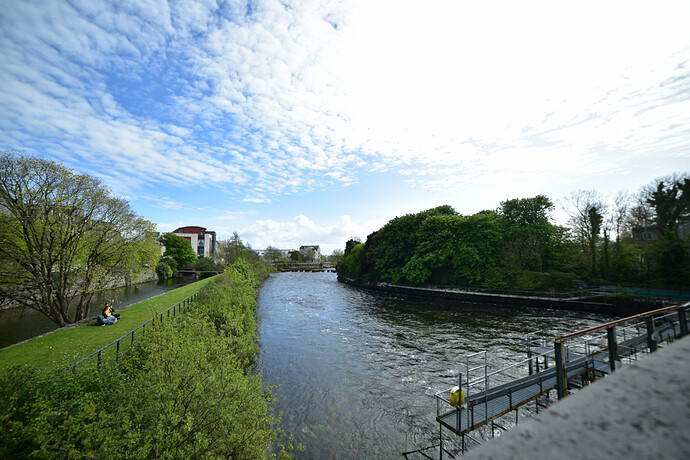 River Corrib traversing Galway City Center on a surprisingly sunny day in May.
Earlier in March, Edgeryders team was brought on board in Galway's (Ireland) bid for European Capital of Culture 2020 to provide extra help engaging with local leaders and edgy ideas for cultural change, and feature some in the bidbook. This post is reporting on our work and what it means to be in service of community as much as in service of the client, in this case Galway City Council. Another post will follow introducing some of the people and projects we met, but first: how we did it and what we can offer openly as learnings.
As the city was racing as a candidate for the title, considerable engagement had already been initiated: a number of speak outs, public meetings and workshops were organised to surface people's vision for Galway 2020 and ideas for how to fulfill it. As it happens when an administration opens the door, creativity and innovation come in. Our mandate going in was to ensure the edgiest ideas out there don't fall off the grid because of lacking capacity to bring them in, or because they are not championed by established organisations.
The community engagement process we ran was inclusive in entry, through a set of shared rules, but selective in exit, to make sure the city can take responsibility for delivery.
We met with grassroots groups: artists, ecologists, alternative arts (in dance, theatre), or producers of growing festivals; we proposed a template to send in project outlines and offered to help turn them into bid book amenable projects.
We proposed to the Galway 2020 team a programme called "The Edge of Culture", to upsell what these creative ideas have in common: a potential for radically changing the local urban landscape and a potential for leaders to become the next generation of cultural operators.
In order to make the projects more international in scope we reached out to members and projects in the Edgeryders network whose work was aligned with the Galway projects and invited them to partner up.
We worked with Galway 2020 to filter ideas - looking at how well developed they were for the bid requirements and if the remaining work needed could fit a very tight schedule (this happened in May for delivery in May).
It is noteworthy that the Galway's strategy has somewhat shifted during the period of our involvement. When we first were brought in, the cultural programme was perceived to be in need of more projects. So, we were asked to involve local actors at the edge to bring projects in, and, this way, enrich the cultural programme. As the work progressed and projects grew in numbers and quality, it was decided that there was a need to focus on fewer projects – hence the filtering phase described above.
What we delivered:
11 projects birthed by alternative or non-traditional cultural operators (May - April); out of these, 4 projects should be included in the bidbook, whereas the rest are to be considered and local collaborations resumed conditional upon the city's win of the ECOC title
8 formal partnerships for the projects featured in the bidbook
As an inherent effect of having worked with diverse groups, we can convey knowledge about community dynamics, expectations and the social contract underpinning any public engagement process
We would like to unpack this last contribution into key insights to accompany Galway 2020 team's work in the future, should it become European Capital of Culture 2020:
Recognising great ideas and finding ways to execute them if the city wins the title. We saw little differences in the qualities of projects submitted by local groups: most ideas were results of community conversations, with proponents skilled at convening local groups and collaborating on the ground. As opposed to being dreamed up by one single person, projects therefore speak for broader constituencies and could have a great return on community mobilization if they end up implemented (despite not getting featured in the bidbook).
Tighter integration needed in the future between external collaborators and core team. There is an inherent information asymmetry when partners or consultants are brought on board. This makes it challenging to discover opportunities (how smaller projects might be fit in existing strands; how an urban project might be refitted for rural places); or to detect redundancy early on (similar ideas might be kept or dropped, creating competition losers instead of collaboration). Tighter integration would therefore increase overall efficiency by generating stronger projects - more briefing meetings, collaborative tasks, full access to historic documentation etc.
All eyes on social dynamics: network building as legacy of the ECOC process. During the final phase of the race, teams are naturally overstretched aggregating various pieces of work into a coherent picture which is the bidbook writing. The risk is losing sight of expectations: everyone who has been involved in Galway 2020 by attending an event, contributing an idea or engaging in a selection process expects to be informed or hear back, and rightly so. Our team was adamant about this and tried to mitigate risks of disappointment by keeping groups informed, even if only to communicate uncertainty. We also brought people together socially to make visible the returns of participation: they are connecting with each other. We highly recommend more investment in long term community building, by keeping work open and transparent to maximize support actions for Galway 2020.