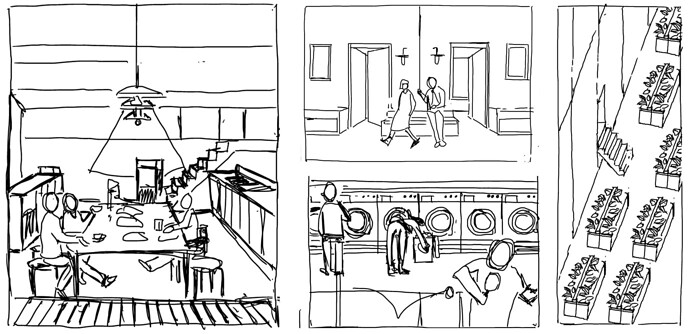 A sustainable, future-proof building. Special attention to resilience to climate change. Schoonschip, a floating cohousing in Amsterdam, is a source of inspiration for its use of green building techniques. Ecology is to be balanced with other factors such as affordability and soundproofing.
A large garden (min. 900 m²) is essential. So is some indoor space for socializing (board games, movie nights, baking pancakes, …).
Possibilities for activities open to the neighbourhood include a Repair Café, all sorts of courses, help with homework etc. A source of inspiration is l'Ades'if in Saint-Josse.
In a lively neighborhood, reasonably close to commerce, services and amenities such as public transport and a park.
No smoking or pets in the common spaces.
disable: [logo, category, footer, social, discourse]