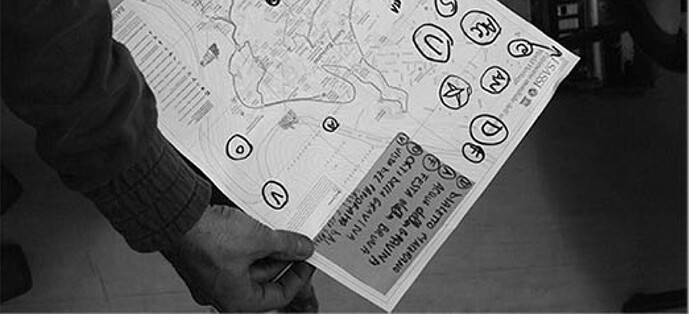 Location<
#LOTE3 takes place in the unMonastery site, in the city of Matera's historical cave-dwellings named Sassi, in Basilicata Region, Italy (map).
GETTING THERE
By plane:
The closest airport is Bari Palese (1 hour). Buses (UPDATED!) run from the airport to the Matera city centre (Piazza Matteotti) for only €4.
By train:
Matera is not linked to the intercity railway system. The closest you can get by train is to Bari Central Station, and then take the famously slow, though pictoresque trains of the Ferrovia Appulo-Lucana (FAL). The FAL run regular trains, every 1 and a half hours (around 12 daily), ticket is 4€. They take about 90 minutes to Matera and don't run on Sundays, when they are replaced by some buses leaving from behind the railway station (UPDATED!). Another option is to go through Potenza and Ferrandina on national railroad, but from Ferrandina you will have to hitchike.
By bus:
Buses are a really good option: Marozzi runs daily buses to and from Rome (32,50€, every 6,5h), Siena, Pisa and Florence. Booking in advance is essential. Sita links Matera to Taranto, Metaponto and other small towns of the province. Marino links Matera to Milan, Bologna, Naples, and many foreign cities.
Tip: check with @elf_pavlik (English, German, Polish) or @ilariadauria (Italian, English, French), we might be able to help you with the last leg of your journey. Elf, an experienced sharer and hitchhiker, will also help you organize cheap or free travel from wherever you are to #LOTE3.
Accommodation
Matera is a tourist city: there's plenty of reasonably priced accommodation. We are crafting deals with local b&bs for people which stay 3-5 nights or 5-7 nights. Here you will find the updated table with the deals. You will then have to make reservations by yourself, teaming up with at least another ER as rooms are double. Mention to the owner that you are coming from Edgeryders. Please bear in mind that most of these people are looking forward to meet you, so when you arrive do not hesitate to explain what brings you to Matera and what you are curious.
Some generous Materans have offered to host #LOTErs in their homes: because they believe in the project and want to give their support through hospitality, but also because we have involved personal contacts: do not hesitate to bring something in exchange (Materani love to discover products from other territories!). Also, we hope you will understand that priority will be given to Edgeryders that have been contributing to the making of the LOTE3 by volunteering. Once you make your reservation, please remember to mark it in the table, so we know how things are flowing.
There is a couchsurfing community in Matera, as well as another very interesting platfrom called Angelsfortravellers (tips, hospitality, meeting the locals): this is another channel to get accomodation and promote the LOTE3 event!
Get in touch with @ilariadauria for further information you might not find on this platform!