I have a question for network scientists like @alberto and @melancon.
The Edgeryders co-developed Realities tool for stakeholder mapping is now being used in the wild by two organizations – Kiezburn (@Waldov) and the Borderland. With use comes data and complexity, and that's where we start seeing some of the most interesting benefits of mapping your organization like this.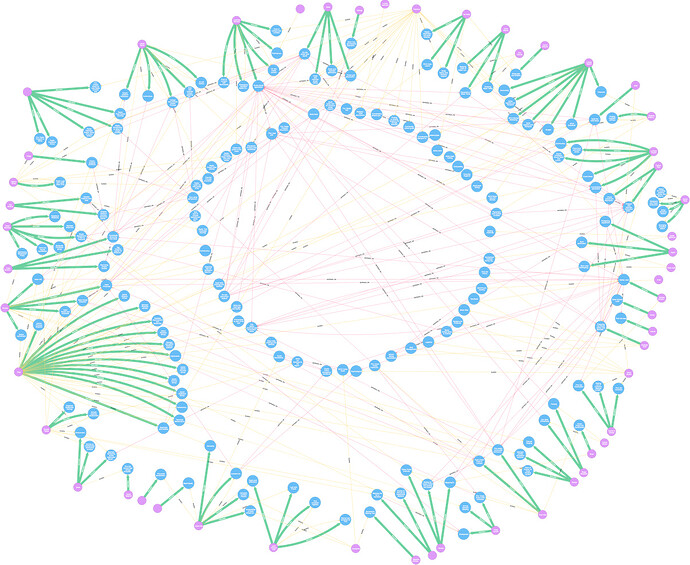 Purple dots are people, blue dots are responsibilities. Green edges are of type 'realizes', meaning that the person is in charge of some responsibility. In this graph, I have manually organized the nodes and edges so that people form a circle, with the responsibilities they have clustered in front of them. Responsibilities that are currently unclaimed or lack clear ownership are the circle in the middle. I quite like this layout since it mirrors the "tribe" circle, with the commons in the middle – visible for anyone to step up and claim.
There are two other kinds of edges in this graph: Guides and Depends on.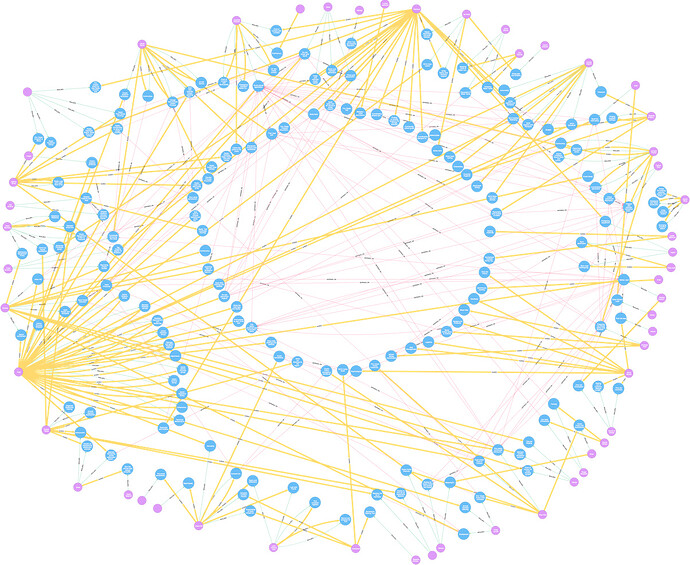 In the graph above, the 'guides' edges have been accentuated. These edges mean that someone is very familiar with the requirements of a responsibility and could help find someone to take it on if the 'realizer' suddenly drops the ball or leaves. All responsibilities have guides per default. When you define a responsibility you become the guide for it and you cannot get out of that without finding someone else to take over.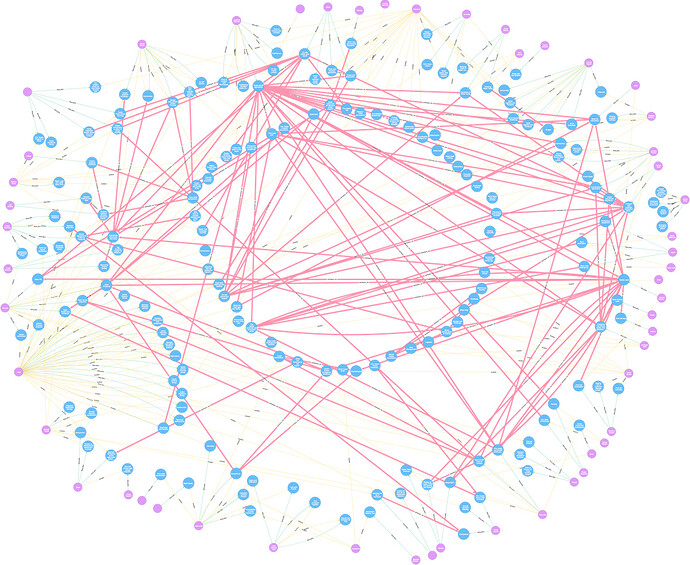 Finally, there are the "depends on" edges which show how different responsibilities depend on each other. For example, the node in close to the top-center of the outer circle has a lot of incoming and outgoing dependencies.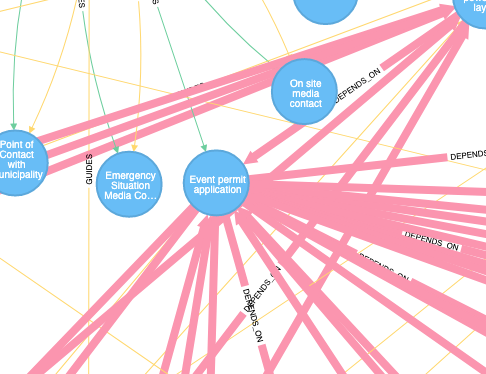 People in the organization should take note of this bottleneck and make sure the realizer of this very important responsibility has everything they ask for on time.
I think there is something very interesting here that we can learn from and keep developing. I would like to write a graph algorithm that takes the data from Realities (a web application with an interface similar to a task manager, using Neo4j as its database) and displays it in this way: People forming an outer circle, their direct responsibilities right in front of them and unclaimed responsibilities in the middle. I can already get the graphdata into the front end in a format that for example Vis.js understands, so what I need is to write the clustering algorithm and implement it with the graph drawing library.
Those among you with insights into the world of graph algorithms, where should I start? Are there good algorithms to base this on?