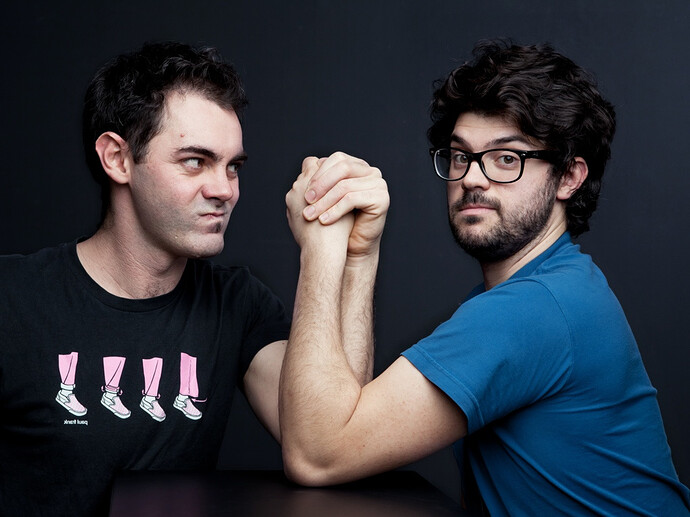 In 2008, Augusto Pirovano and Matteo Uguzzoni started building a social startup called CriticalCity, a game of urban transformation that used a web platform and asked its players to perform creative missions. The player would pick the mission, shut down their computer, get out on the street, play the mission, collect the necessary proof of his experience and then, after returning home, publish the mission attaching photos and videos.
One year later they pitched it in front of a panel of investors and won the TechGarage awards for Best Italian Startup. They went on to win every tech startup competition in which they participated.
Since then they have designed strategic presentations for top leadership at Luxottica, Vodafone, PriceWaterHouse Coopers, UniCredit, eBay, Italian Ministry for Economic Development and the Tunisian Ministry for Tourism.
Edgeryders has commissioned them to run a 2 day hands-on Masterclass to help people reach their goals with presentations that convert and move to action. The Power Pitch Masterclass is a unique opportunity to rapidly develop your storytelling skills, and take your project to the next level. It takes place on May 26-27, in Brussels at the Reef.
YOU WILL LEARN:
How to sell your project/idea to your audience in order to reach your personal goals
How to craft your message and a powerful reasoning
How to design your slide deck in order to support your live presentation
How to research your presentation and prepare yourself for the live meeting
How to conquer and retain the audience attention and move it to your desired action
YOU WILL NOT LEARN:
How to use Powerpoint or other presentation software
Advanced public-speaking skills
HOW TO REGISTER
You register by sending an email to nadia@edgeryders.eu.
600€ - Standard ticket price.
0€ - For members of The Reef (becoming a member is easy, more info here).
We only have four spots lefts, better hurry or risk losing out!!!
For more information about the course please write to contact@edgeryders.eu.