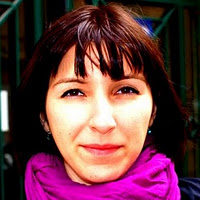 My name is Noemi Salantiu and I happily would like to say a few words about my involvement with Edgeryders. A few posts ago, Gilda confessed she took up Edgeryders due to a personal committment, among other reasons. For me as well, there is an inner motivation which answers the question: "why do I enjoy working on Edgeryders better than anything I've done so far?" Originally, I am from Cluj-Napoca, a city at the heart of Transylvania in Romania. I first heard about Edgeryders when Alberto Cottica proposed I manage content that goes out through the blog and to our community. At that time I was preparing to rellocate in Strasbourg for a traineeship at the Council of Europe, so here I am making the best out of this. Embarking on this project means having a distinct feeling that it's not a "work" project per se, rather it's a journey, an approach so novel and intimately challenging that I see it succeeding already. Why? Because I test me in this experiment. I myself am an Edgeryder. I am youth in transition, but before I even learned of this terminology I saw what my friends go through when having to make abnormal decisions:
choose between study poor vs work to make a living & remain uneducated
become independent with a menial job vs go back to living with parents, in small towns & lack of opportunities
forming a family at twenty something years old is out of the question for most etc.
Not everybody has the courage to walk the blade, take initiative, but you can learn how to do it…! In my opinion the learning experience is the most important gain of the community on Edgeryders. Going back to small towns can be rewarding if you look at it from the right angle. To this respect, I now understand what innovative means : ) I hear the words "creative" and "social innovation" a number of times a day and they didn't even used to be part of my vocabulary. With edgeryding people both in the team and in the community, I am starting to see the edges myself. I am a graduate of social science research, so in my work so far I've looked at the social space only from an outside perspective. Through Edgeryders I get to see how the social actually shifts, I am both a reviewer and an active participant in something with direct impact on my life and my friends' life, how could I not love it? I love it!