1. TL;DR
The membership process is more complicated than anticipated.
Proposed solution:
Move forward based on the following informal agreement:

Decide on Associate Membership by consent (Full Members only)
Use the draft proposal until Team Reef has approved the final proposal

Ask Team Governance (and others) to finalise the proposal and present it to Team Reef for approval.
2. A proposal on the membership process: why?
My task was to come up with a proposal on how The Reef will deal with membership requests. This is because we make decisions on membership by consensus (as per the Governance Document) and we want to make sure that we are transparent about how this is going to happen, and also that we minimise the potential for hurt feelings.
3. Scope of the proposal + implications
When going into the details I found that it made more sense to cover:
How The Reef will deal with membership requests (or the lack thereof), and
How people can become a member and what is expected from them.
This has the following implications:
The draft proposal could be used to replace the entire Section 2 in the Governance document.
We probably need a bit more time to think about this and do the collective intelligence thingy.
4. Read the proposal
Saved on Nextcloud (internal link).
Warning: it's a bit dry and technical

.
5. Key points
Associate Members can be heard about other people's membership requests, but will not be invited to participate in the decision-making.
To decide on Associate Membership we decide by consent rather than by consensus => Question for the round: "Can you work with this for moving forward?".
To decide on Full Membership we decide by consensus, but nevertheless with the long-term viability and stability of The Reef at the center of the question of the round (rather than personal preferences). The proposal lists a couple of criteria to justify the lack of consensus (e.g. commitment, responsibility, trust, …)
All members are asked to be proactive and conscientious about membership. When we see potential problems at the horizon, we talk to somebody and ask Team Conflict Management to intervene.
Graphic summary: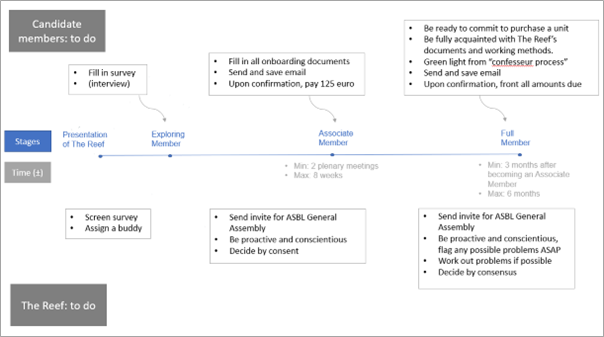 6. Issues that need to solved still
What do we do to determine the order of priority to chose a unit if several people become Full Member at the same time? (my suggestion: units are designed according to people's wishes, so I don't think this will be a problem)
What will we do when we get more applications to become an Exploring Member than we can take on? How will we select people?
7. Proposed way forward
We need to find a balance between the following needs:
Moving forward and making it actually possible for new Reeflings to become an Associate Member
Taking enough time to think this through and let the collective intelligence do its thing
This is why I would propose a hybrid / informal solution, as follows:
The current Full Members hold a GA shortly, and decide on the membership requests by consent.
People who become Associate Members after this GA agree that they will not be able to decide on Associate Membership requests (until they become Full Members of course).
We ask Team Governance, Team Recruitment & Onboarding and Team Conflict Management to have a look at the parts of the proposal within their remit and to refine or amend it where needed.
We decide on the final proposal by consent in a plenary meeting.
8. Questions
Do you have any questions, remarks, thoughts?
Can you work with the hybrid / informal proposal under point 7 above?