This was quite an experience. I already organised events, and bigger than this, but never had to build a community and do it in such a short time.
Many unexpected things happened. Even though I expected to meet skepticism, I though I will have an easier time convincing people why is this such a good idea.
The importance of sharing the stories, getting to know each other, learning about real issues in lives of other people around us. Engaging in discussions to find solution to those issues, often common for many people, and just to support each other. Activate this collective intelligence, then use the stories to connect people and form teams who can actually work together to change things with real projects/initiatives (I am very goal orientated).
Over the past month I improved my processes a lot. And I created an animated tutorial for all newcomers, which still needs to be smoothed out a bit and I will share it with you guys for suggestions. We can easily add a voice over and it should be quite effective.
Got the idea because many people were a bit lost on the platform and needed help with some things. Just yesterday I had another confused person

.
I also never was a facilitator or moderator in discussion panels or similar so I am happy I am part of Wellbeing in Europe. Gives me opportunity to learn a lot of new skills and help communities I care about as well.
It started with my trip to Serbia last month. My idea was to create core groups in few cities and if they are interested in a project, they will help grow it themselves.
Thanks to many people who got engaged and saw importance in such a project, we got to where we are now. @TamaraVuk and @noemi of course but so many locals as well who got engaged very early on: @kiszoltan8 from KEC Becej, @Ede @Oxilon @marijanesque from Becej as well.
Also @tihana and @n0vakovic who got engaged immediately like Tamara and helped out just on the basis of our skype talk…helped me so much with the first meetup in Belgrade. They helped a lot with everything for the Belgrade workshop we had now as well.
Had great discussions with @miremire @Tatjana and @Pokrajac @Oxilon , among other people, it gave me a lot of energy and motivation to keep working at it…we have some great ideas as well. I am sure some of the good ones will be put to test by the communities in 2020

.
I postponed this post because I got stuck in Serbia for an extra week. Spent 6 days recovering from eye troubles but as soon as I felt better, I set up 2 days of meetings and was invited to few events.
Result is this bunch of notes (new ideas and interesting insights into local politics and perception of us from some of the local NGO's.
I did not expect that but, it seems some of the local NGO's see us as direct competition and are afraid for their position…that's why they did not support us even though we have similar missions. The surprising part for me is-they determined it without even communicating with me/us properly. Very silly.


And I got a thank you from the Office for Youth in Becej, which I don't feel I deserve but they sure did put extra pressure on me to do a good job haha.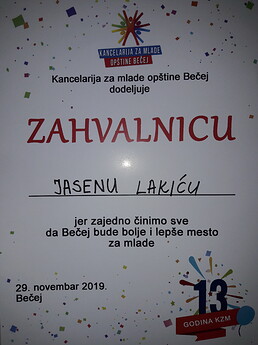 I actually learned a lot about organising an event for younger generations just from observing everything during the Office for Youth celebration of 13 years of their existence…a lot to change really if we are to do events for youth in future.
Also met with professors, and teachers, few school principals. There is a lot of good will to move forward with the proposal I build with several community members (sort of center for innovation/incubator hub in Becej). Teachers and professors especially see the importance of bridging the gap of theoretical knowledge and practical knowledge you get through doing things and experimenting. That gap in Serbia is very big.
I see communities in Serbia growing over this month already. Based on my many many discussions with people and organisations, we will see activity and energy to move forward.
If that happens, we as Edgeryders can join in their initiatives and support them as their international partner. There is a lot of potential there, I just hope the community will see it as well.
Already heard plenty of good ideas, about recycling/reusable materials utility (big issue here), education and work on raising people's awareness, healthy food promotion/distribution etc…
The way I see it happening is (in this order):
Active community willing to get involved in real issues linked to wellbeing
Edgeryders seeing the activity and determining our way forward
Doing few more events in January (or later if we still don't have enough info/activity) with specific goals of growing community and mobilising it in the causes they most care about. If causes are aligned with our values and Wellbeing in Europe of course.
Ideally, if all 3 points above are met, we can engage the research team and find relevant EU tenders to really get the projects off the ground. ER+local organisations+relevant international partners if needed.
(I also don't know what are budget for 2020 is yet).
Of course, most of other things don't make sense if we don't have active community. That's what I focused on over the last several days and hopefully the message went through.
The biggest lessons for me were the new insights in the state of mind of population in different communities in Serbia. Also I learned there are so many stories of success and hope, so many people actually trying to make the society better.
The thing is, nobody talks about them so much as much as they talk about all the negative stuff going on.
So maybe one of our biggest goals would also be, get the inspirational stories and distribute that message in our community in 2020.