No one could have thought of a more appropriate name for a citizen driven initiatives – Nepal Rises, which has almost 4000 members in its Facebook Page, has come a long way from being a proactive group of concerned individuals to a visionary community of dedicated team. Nepal Rises prominently worked on managing and coordinating the supply-demand chain of medical supplies, sanitary supplies, and volunteers in the initial few days of the earthquake. Currently, they have become a legally registered non-profit organization which is going to work specifically on temporary learning shelters and emergency disaster response in Nepal.
Their website shows that they have pledged for a support of $100,000 of which they have already been able to raise $54,053. 14 days to go before the pledge ends, Nepal Rises shows no sign of stopping.
I went to meet Deepa Rai and Rupa Maharjan, core team members at Nepal Rises. Brijen Joshi briefly joined us to talk about how it all started.
How It All Started
Brijen: "So, after the quake, most of the guys came to the office after a couple of hours. At that point, I went to Teaching Hospital and I saw people dying for the first time. There was chaos over there. Then we started to talk on Facebook. We wanted to help out and during that process, we did not know how to. We did go to different places. At that point, Shashank and Sushil were just posting things on their social media. There was a lot of online information but we did not know where to focus.
"So, we started here (at the Smart Pani office) and started collating all the data so that we can guide the volunteers to go to on where the help was actually required. One of the things we wanted to avoid was the outbreak of diseases that we have heard so many times. So we started by buying Piyush and going out to the centres just to make sure that nobody gets any diseases.
"One of our friends, who had been working on anti-trafficking, said he wanted to come to Nepal and help. He was actually the first person who came here. Another friend said she would like to help us as well. Then within an hour, we had 400,000 worth of medicine lying around in our office. We started to tweet about our supplies. Afterwards, more people came to help us. From 5 we reached to 400 people. We did 500+ deliveries to different affected areas within Kathmandu and outside in the affected districts as well.
"We coordinated with the local people, collaborated and verified the stories, and then sent out the supplies like food, medicine, and tents.
"I don't know how to put it but it just ballooned. Right now, the disaster caused by the earthquake is understandable but in few months, famines may happen if we do not plan properly."
Informed Steps
Deepa: "We are open to collaborating with groups rather than working alone. Right now, we are collaborating with Seven Summit Women. There is a VDC called Bhotelamdang in Sindhupalchowk where we are trying to get temporary structures for two primary and one secondary schools."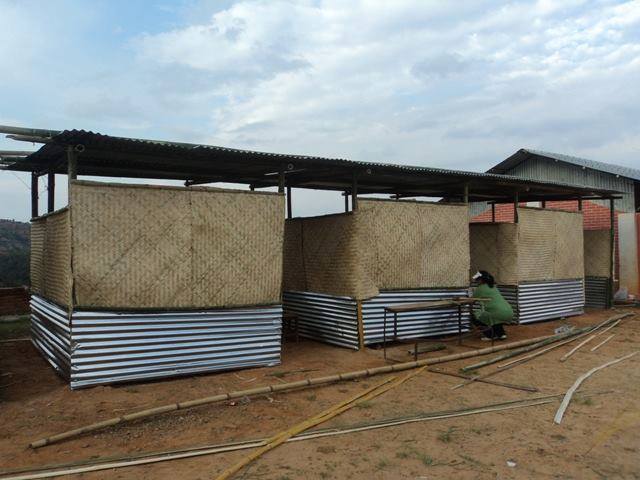 "Not only temporary structures, but there was another problem because the teachers teaching there were not locals but had migrated to the place. They were having problem because all the relief materials went to the locals but they are in a state where they do not have anywhere to live in so they have to go back. So, we are also focusing on building structures for the teachers as well. So that not only students but also teachers also have a proper space. Not only a classroom but that they would also have a teacher in it.
"We are also focusing on water and sanitation. I heard about a school which has started but has a poor drinking system in news so this also affects the school area.
"So we are focusing on both learning spaces and retaining teachers."
Effective Collaboration
Deepa: "As you know, almost 14,000 schools are down and now, everyone is trying from their part. It depends on the place and who you are collaborating with to determine how long it will take for things to start – are you going from grass-root level where you do need assessment and taking consultations along with technical support then it will take 1-2 months to build temporary learning shelters but right now, we are working with people who have already gone there and done all these assessments so it will not take so much time for us. It depends on the time required to get the supplies. We are also collaborating with other groups of individuals and volunteers who are trying to set up schools at Nuwakot. We are also collaborating with a cyclist group because they have good networks.
"As Brijen mentioned, on the first day, there were three of them (Shashank, Brijen, and Sushil) and they did not know what they were going to do. After that, they started to scan through social media and searching. Slowly, their friends started contacting day. On the second day, we already had 50-60 volunteers with and without bikes and vehicles."
Rupa: "It wasn't so difficult to coordinate and team work was great. Outside the building, we did our need assessment. After it came inside, it would be transferred to supplies section and then come out for dispatch. Each point had volunteers who worked diligently."
Deepa: "First day, it was a bit chaotic but by second day, everyone knew what their responsibility was. If someone needed something then that person would know whom to go to. There was a system. One person even commented on how our system was really effective. They knew the procedure and they found it easy to come here."
Insightful Observations
Rupa: "For me, this whole team work has been a huge experience."
Deepa: "If you want to do something and if you really want to do something and put your heart into it, you will find other people as well. They will join hands with you and make the things happen. You are not alone. If you have a good cause, you will find like-minded people like you. It has been a big learning experience. Another thing is you cannot cater to everyone. Because small drops make an ocean – initiatives like ours make it. We may not be able to do it for everyone but we are doing something for some people which is providing them support."
[Image Caption: Not by fighting but working together.]
Rupa: "We went to Chaugaun, Jitpur. There, almost all the houses of the village was damaged along with the one public school (Shree Sarawasti Primary School). So we built two temporary classrooms for the students. Rest of the things, we worked internally – from working with data, and mobilizing volunteers."
Deepa: "The scenario in the villages in different because a local person will have an in-depth information on the village from who lives where and how many people live in a house. There are different kinds of locals – locals who only visit once in a while. And then there are true locals. There were people who were able to give us valuable information like they knew if women used sanitary pads or not. Thankfully, our connections reached there. We did not want the population but we wanted to know target population. We contacted with volunteers and groups who were in contact with the local people, and this is how we reached them."
Was Government Effective?
Deepa: "Government's role should have been before the disaster and not after in disaster preparedness. We knew it was going to happen. The government was doing some work but the government did not have answer how to mobilize. I knew they were preparing for fires and flood but not for earthquake. If the government has properly planning and not just identifying safe spaces then it would have been better. They should have identified infrastructures. Still, the government can have two roles – governing and monitoring. It is doing monitoring through controlling mechanism and one door policy but if the government had made such a platform where citizen led initiatives could have a common platform to coordinate, it would have been very good.
"Right now, we are trying to coordinate but it is limited to our circle. There are other people doing the same work but since they are not in our network we cannot work together. But if the government had made a platform to coordinate efforts and openly recognized these efforts then we could prevent duplication works and needy people missing out from relief. This would have made recovery faster.
"We actually provided shovels to the Nepal Police. Along with that, with VDCs, when we sent supplies, we did not work directly with them but coordinated with actual local people, local disaster risk committee and trusted. We did not give anything without getting accurate data on population and how much was required so we were able to filter in real needs.
"Some local villagers even told us of CDO officers who ate chicken and drank alcohol with the relief money so the people started to come to us with such information. We heard in some places, instead of the real family another family had taken their relief. But we decided to focus on how many had positive impact because if we get stuck on negative impacts then we will never feel like we have done anything."
Room for Improvement
Deepa: "We had a very transparent and effective system but there were certain areas where we could not reach out. We still hear that there are areas where relief has not reached. My only wish is that we could have gone there and deepened our outreach. Otherwise, we are happy with what we did. We do not want to change anything. But I wish if we could reach to the remote places."
Visionary Steps
Rupa: "Initially there was rescue phase but we have moved to rehabilitation. But, the next step would then be social and economic development because after rehabilitation ends, people will need this."
Deepa: "We are also in coordination with Yellow House and other organizations. There were five other core groups. Even the National Planning Commission has recognized us as one of the volunteering group. We have registered this organization which will work on emergency disaster response on rehabilitation, and rebuilding. Our first phase was emergency supply and relief. Now second phase is building temporary learning shelters. After that, we will focus on livelihood. Right now, we cannot say we have done it and it's finished. It will take 5-10 years to rebuild. From physical to economic and psycho-social, it will take a lot of time and effort to bound back. This is the perfect time to learn of innovative ways from other countries."
As the interview was coming to an end, it became evident that Nepal Rises is no longer an immediate temporary relief group but that foundation has become stronger as they step into an organizational structure. With it comes its own package of hurdles but they could be the much needed new direction that non-profit organization could take up in Nepal. A much needed shift in the culture of non-profit organization is possible if NepalRises rises to the occasion with its dedicated team and accountable efforts.
NepalRises is currently working in collaboration with Effect.Org on building temporary learning shelters. For updates and information, you can visit their official website HERE, and their collaborator, Effect Org's website HERE.