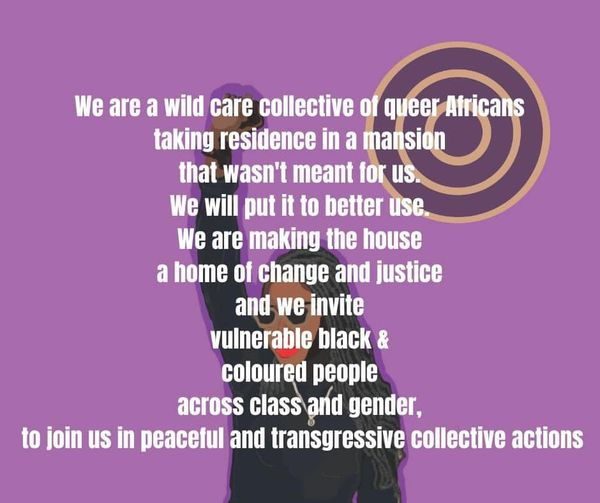 This action by WeSeeYou, a South African collective of which @Player1 is a part, might be forboding of a similar movement in Europe.
https://www.facebook.com/weseeyou.now
What they did is quite simple. In response to the marginalized being hit hardest by not being able to make rent, especially in the wake of the pandemic, they collected money from friends and family to book a Cape Town mansion on AirBnB, operated by the company Turnkey365.
Once their two days were up, they simply refused to leave, demanding instead to negotiate with the owner to let them stay indefinitely. Their motivation is for this to be "an opportunity to collectively set a precedent for cooperation between the private and civil sector to urgently redress our current social crises".
I think this post from their Facebook page outlines their motivations well. Remember that South Africa is the most unequal country in the world measured by the Gini coefficient, so this is perhaps particularly on point there.
The economy was designed to protect the wealthy, it is a pyramid scheme and it is busy dying and we are being manipulated to believe it is our duty to protect it. The economy is actually the protection of the wealth of the rich. There are 32 00 high net worth individuals in South Africa, they have at least 1 million dollars each. 50 percent of adults will be unemployed by the end of the effects of Covid-19. The high net worth individuals control 40 percent of the country's wealth. That is enough to control the country if you see it as a business. No one should have to struggle to find work or spend their entire lives working, only to struggle to make ends meet. In the midst of all this state sanctioned repression, women, children and queer people are targets of sexual, physical and verbal assault. We do not consent to this. We deserve safe, well serviced spaces. Our occupation action is an example of how we could make and claim these spaces. How we could live rather than just fight to survive. The time has come for us to embrace the need for change and join actions that will make the world the place we always hoped it would be
I found this on re-posted by a member of the group but originally by one Kim Lilian Windvogel.
The Camps Bay occupation is making people sweat because it touches on capitalism as much as it touches on mismanagement from government. If they occupied a piece of government owned land, people might be united in it because people generally hate leadership. But they're meddling somewhere else and no one knows what to do with their feelings because assimilating to Capitalism is supposed to buy you the security of ownership and decreased risk, but look now, there's a glitch in the system. 7 occupiers glitched it in a mansion in Camps Bay. 2020 is lit.
Obviously, they are facing a lot of backlash from all kinds of places. This is all currently unfolding. It seems to be making the media:
As expected, Turnkey365 has responded by now suspending pay for the staff that oversees cleaning and operating the mansion, pushing the responsibility for their precarity onto the activists.
This is a very gutsy move in many ways, as a direct action against the infestation of short-term rentals at the expense of city dwellers. They certainly have my support for trying to challenge the status quo. I wouldn't be surprised if we see more of this in the future.