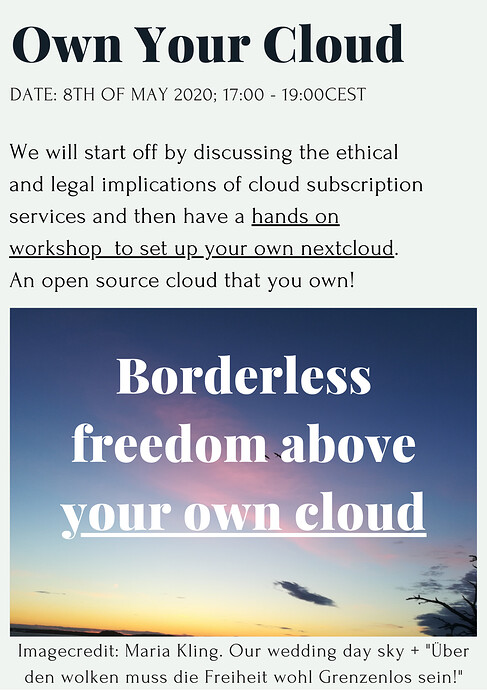 {
"host": "https://now.edgeryders.eu/team",
"info": "Dear Community, while we are forced to keep a physical distance to each other we want to come together regularly to discuss our and your challenges, plans and responses. As the Edgeryders team, we want to find ways to help our community and beyond to get through this crisis. Therefore we now open our weekly team calls for the whole community to join in and give us their ideas and feedback. We want to discuss strategies and the situation fully transparent and also check in with each other socially. All the best wishes to everyone. We are looking forward to talking to you."
}

"Own Your Cloud"
Webinar & Workshop by @erik_lonroth
When:
on 8th of May, 17:00 - 19:00
What:
is a discussion of the ethical and legal implications of subscription services for clouds combined with a hands-on workshop helping everyone in the webinar to set up their own next-cloud, a free and open-source cloud that you will own yourself!
How to Join:
Comment to this post that you are interested and we will add you to the rsvp list and share the time and link to the call with you.
We are going to use our new Edgryders call tool with a secure rsvp list to make sure you and whatever you share is safe.
You can see a preview of some of the workshop aspects in this video by @erik_lonroth: