Hello @reeflings,
I have posted the draft agenda (internal link) for the plenary meeting on Monday 20 June in the Team Reef > Plenary meetings folder.
The main objectives of the meeting are to start the onboarding process and to take the first steps towards getting organised.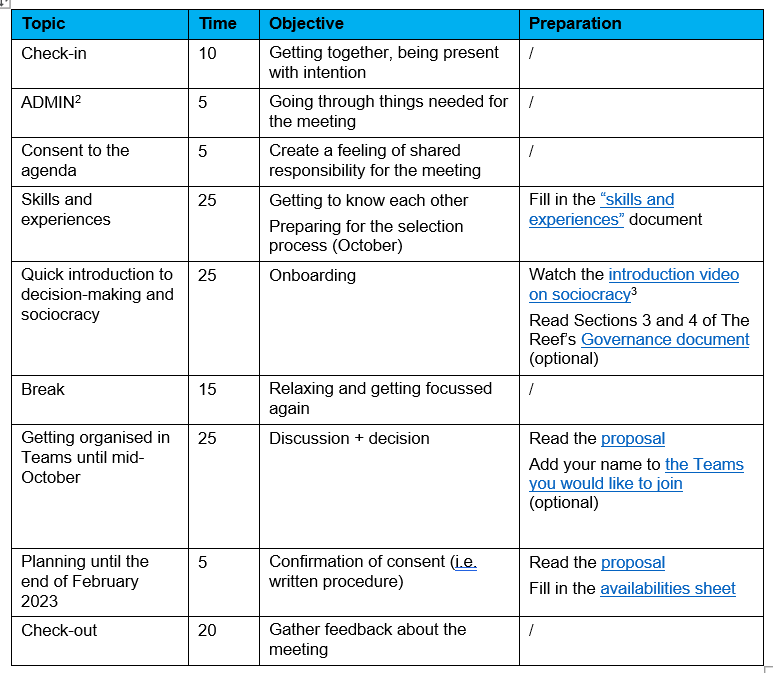 Timing:
We start at 19:30 sharp and aim to end at 21:45. Please make sure to arrive at 19:20 at the latest, so that you can get comfortable in time (get a drink, get your laptop or documents, …).
A couple of notes:
In the last column you can see which preparation is needed. It would be great if you could have a look at this so that the meeting can go as smoothly as possible.
This is the first time we are having a meeting with such a big group and the format is new to us, so please bear with us. I have foreseen 20 minutes at the end of the meeting to gather feedback.
If anything would be unclear, please feel welcome to post your questions in this thread.
If you can't attend the meeting, please put your name in the "agenda and minutes" document after the heading "excused".
About the proposals:
The agenda includes two proposals: 1) on getting organised in Teams until mid-October, and 2) on the planning until the end of February 2023. The first one will be discussed together to be agreed by consent (hopefully), while the second one is meant to go through a so-called "written procedure".
You are welcome to introduce comments or changes in the documents, but please take into account the following:

Please use the "track changes" function. You can find it in the "Collaboration" tab on top. It makes it clear that changes were made, and by whom.
Please focus on the fundamentals only: things that are unclear, things that significantly improve the proposal, or possible risks for The Reef that you believe need to be mitigated.
Help needed:
Before and during the meeting we would need 2-3 people who would be willing to act as hosts. Tasks include helping out with putting the chairs in a circle, preparing coffee and tea and opening the door if somebody would be late. If you would like to do that, can you please give a shout in the thread below?
At the beginning of the meeting the Facilitator (me) will make a call for volunteers for the following roles: note-takers (2), time-keeper and guardian of the tingsha bells.