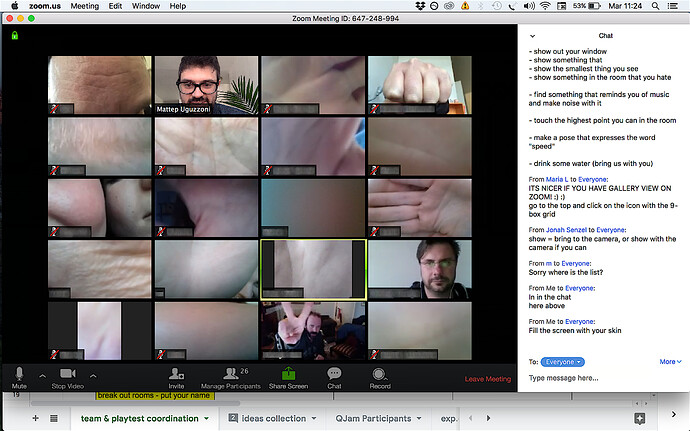 This is a picture from the Quarantine Jam that we organized two week ago in Trust in Play: this one was a playtest of a game where we were giving each other tasks, I asked everybody to show me some skin.
"What are you doing in life?"
I'm a game designer and in this moment I'm teaching/ managing a Game Lab (http://gamelab.mica.edu/) for 75% of my time, and coordinating a branch of a project called Trust in Play (https://community.trustinplay.eu/) - the European School of Urban Game Design. On the side I have other design-based activity to keep me busy.
For the first part, we switched our activities online (this by the way is the first time in 10 years that I have a steady income so I fell really privileged). For Trust in Play I was coordinating the Nomadic branch, with Trainees all over the world, so we were already in a digital realm.
"What worries you the most about your situation now?"
I'm worried of a new reality in which physical human interaction will be discouraged.
I'm worried for my health (and my weight).
I'm worried for my relationship.
"What makes you hopeful about the future?"
I hope that we find a vaccine soon.
"If you are becoming more communal or not, are you going to do things differently? which ones?"
I don't know my neighbours, literally I don't know (and never cared) about who is living next door. I think this is something that I'm going to fix soon, but is only because of this extreme situation.
A lesson that life is teaching you:
Don't over-design or fast-design. Brain power is limited and as humans we are not that good at predicting stuff.