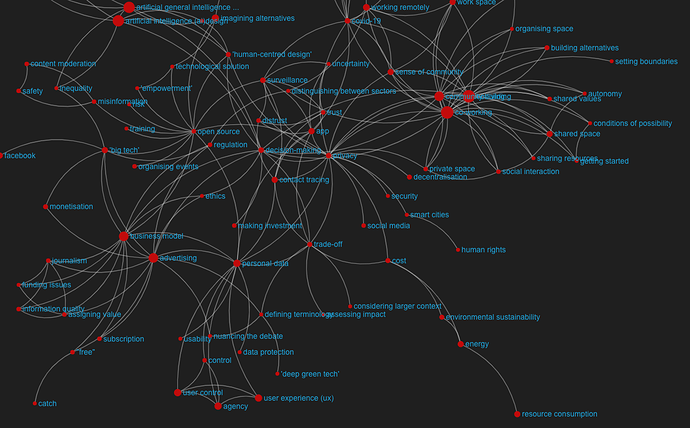 Dear Friends and Family,
While 2020 will be remembered as a year that saw a global pandemic put public health at risk, challenge health systems and stall economies, it will likely cause change that will have a long-lasting impact into the future.
At Edgeryders we have spoken about privacy concerns that have emerged throughout the pandemic with countries using technology to curb the spread of the virus. Facial recognition apps and contract tracing apps have been called into question around the world. Security experts and people like whistleblower Edward Snowden have spoken out about the danger of passing laws around the collection of personal data during the crisis.
In fact, our most recent ethnography findings show this was a prominent conversation on the platform over the past four months. Our community has been talking about the risks and harms that these applications and technologies have to data privacy and our civil liberties.
It doesn't appear these issues are going away… Just last week Amazon announced a new palm recognition system that let's people scan into its shop by waving their hand at the door. It has privacy experts concerned that a biometric scanner that sends pictures of people's palms into the cloud could be a security risk but will current habits that are being formed around these technologies throughout the pandemic have far-reaching consequences later?
We have also been examining how an internet that depends on ad revenue to operate and examining the recent policy brief published by Mozilla Fellows Harriety Kingaby and Frederike Kaltheunejust on how that can be fixed here.
Other conversations that have featured prominently on the platform include coworking, according to our findings. It seems apparent that many have tasted working from home, and while it doesn't work from everyone, some people have trialled it and like the freedom it brings. One aspect that garnered a lot of attention around that was how the coworking sector can incorporate childcare to help working parents during current restrictions.
Similarly, there has been a lot of talk on the platform on how we can recover from the fallout of this pandemic, and make the pathway we choose a green one.
We have been reacting to these conversations and discussions, by putting together some events that our community can benefit from. On the 22nd October, we are running a webinar that explores what freelancers need to improve their working days. Please come along if you're a freelancer that doesn't know what to do with all the technology available for the sector to utilise.
Don't forget…
Some of our other upcoming events:
And finally…
Tell us about what's going on in your part of the world below or here. Our "What's Up With You?" section is a safe place where our members share everything from the latest pumpkin they have carved to major events in their part of the globe.
This newsletter is part of the NGI Forward project Generation Internet (NGI) initiative, launched by the European Commission in the autumn of 2016. It received funding from the European Union's Horizon 2020 research and innovation programme under grant agreement No. 825652 from 2019-2021.