I would like to propose a talk and demo for the OpenVillage Festival 2017 of my social networking platform: Remarkable Lives.
The timing of the Festival will fit very well (I hope!) with my platform's development stage as it proceeds from Beta to community roll-out. In fact, OpenVillage Festival 2017 could be the stage for its European launch.
Let me explain a bit more about Remarkable Lives…and forgive me for using the third person (I'm new here and not 100% sure how this community works yet).
Remarkable Lives is the App for Ageing Well: a new social network that celebrates and shares the life stories and achievements of older people, improving society's connectivity with later life.
Founded by Social Entrepreneur, Owen McNeir, Remarkable Lives helps to change society's perceptions of later life, aiming to combat loneliness and isolation, improve health and wellbeing, and benefit care providers and community groups by offering real-life solutions to challenges confronting the care sector and an ageing society.
Why it matters
Ageing is often portrayed as society's burden; its associations with physical and mental decline perceived as something to fear.
In the UK, 3.5 million people over 65 and 2 million over 75 live alone. In the US, roughly one in three people older than 65 and half of those older than 85 live alone. This compounds feelings of loneliness and isolation in people, at a time in their lives when they should be valued and heard.
The needs of our ageing population are changing and there are many people that make up our diverse society who still feel under-represented and anxious about later life, such as the LGBT community, people with mental health problems, refugees and those displaced in society who find themselves far from home at this vulnerable time of life.
Families continue fragmenting; communication has changed, leaving many behind, widening the gulf of shared experience, reducing connectivity between generations and the loss of memories when life stories go untold.
The care sector is under strain and facing rising costs, making it harder to motivate and retain valuable staff, ensure standards of care quality are sustained, and maintain a positive, trusted reputation.
Remarkable Lives addresses these challenges to create a positive social impact:
Enhancing the physical and psychological health of all older people in today's diverse society, contributing to more positive feelings about later life, combating loneliness, isolation and the onset of dementia.
Building confidence and reassurance in people facing the transition into care.
Saving money for care organisations with solutions to enhance acquisition and retention, reduce administration, facilitate easier reporting, save staff time and reduce medical costs.
Improving job satisfaction, staff retention and helping to address vital resource issues by attracting good potential candidates for recruitment into the care sector.
Improving care standards by enabling front-line care workers to gain a better understanding and appreciation for the people in their care.
Promoting care organisations by telling the stories of people in their care while raising awareness and profile for the services and support they provide.
Reconnecting families and friends, bringing them closer together across generations through the positive and meaningful process of reminiscence.
Providing the cornerstone for fundraising or PR campaigns by building interest and engagement within the community, with press and with potential donors.
Building a community platform
An award from UnLtd, the Foundation for Social Entrepreneurs, and a successful crowdfunding campaign on Kickstarter are supporting the development of an operational platform that will take Remarkable Lives forward to engage care providers and community networks with a system that offers easy-to-use personal web profiles using photographic, audio-visual and written reminiscence.
To raise awareness and build a community of interest around the enterprise while the platform is in development, Owen is conducting life-story sessions in care homes, hospices, community centres and with individuals in their own homes. Using photographic and oral reminiscence techniques, he is opening a window on the past, giving older people a renewed sense of identity, dignity and meaning.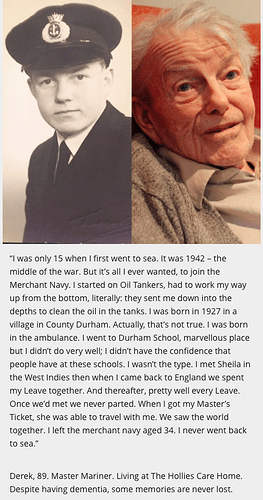 The results are short life-story moments, edited and published on a dedicated photo-blog: www.remarkablelives.uk . These stories, easily accessible online, are also designed to help those who care for older people to better understand and connect with them. Carers and nurses are rushed off their feet, so Remarkable Lives provides a quick to read, personal history to help them form a picture of the individual in one click. Care homes who have participated in this stage of the project even add the stories to their residents' Care Plans, all of which is resulting in improved staff satisfaction.
Owen says, "My mission is to help society stay in touch and age well together by providing a positive, safe and empowering environment; an online gathering place. Remarkable Lives offers a refreshing perspective of old age that rolls back the years to celebrate our most memorable moments and helps to change society's perceptions of later life."
He adds, "We are building something special with Remarkable Lives: we are combining creativity with innovation, harnessing the powerful medium of storytelling with the familiarity and connectivity of a social networking platform to create a positive social impact."
Evidence that Remarkable Lives makes a difference
"UnLtd is convinced that innovative social entrepreneurs like Owen hold the key to ageing well. We are delighted to have the opportunity to support him to increase and deepen the impact of Remarkable Lives." Julie Carthy, Award Manager, UnLtd
"What you are doing has such value and importance. It's things like this that make our world better and kind, putting humanity into statistics." Nicci Gerrard, Author & Founder of John's Campaign
"With Remarkable Lives the emphasis moves on to their lives, experiences and skills and away from dependency and disability." Rob Fountain, regional CEO of Age UK
"Remarkable Lives has strengthened our staff / resident relationships – we know them better and have a deeper understanding." Peter Gardiner, General Manager The Hollies Care Home
This short 3 minute film from Owen's recently completed Kickstarter campaign helps to convey the essence of Remarkable Lives.
I hope my enterprise is of interest to the EdgeRyders community. Please feel welcome to connect with me - I'd love your feedback. Thank you.