A couple of weeks ago I had the pleasure of meeting with @Azdem (Mehdi) from Racines, une organisation but non-lucratif militant à Casablanca.
Je parlerai de l'expérience et les connections en anglais mais @Azdem et moi avons eu le RDV bilingue, où nous parlions avec la langue que nous étions plus à l'aise. Je vous invite de nous joindre comme ça et nous tous trouverons une façon de se comprendre.
In short, Racines work across accountability, emancipation and solidarity to promote culture as an influential factor in human, social and economic development. With cultural practices as their central focus and means, they work transversally across anthropology, cultural policy advocacy, participatory democracy, education and economic development. Actions take the form of debate, advocacy (copyright, access to information, freedom of expression), research, trainings/forums/conferences, cultural events and urban interventions. Partnering with the likes of cultural and political organisations, UNESCO, the European Commission, SouthMed CV and more, they have an impressive suite of initiatives across diverse communities and fields in Morocco, Africa and the Arab region.
There a few specific opportunities for collaboration that I'm seeing right now, and some introductions/ other conversations that may seed further potential.
Cultural statistics and participatory democracy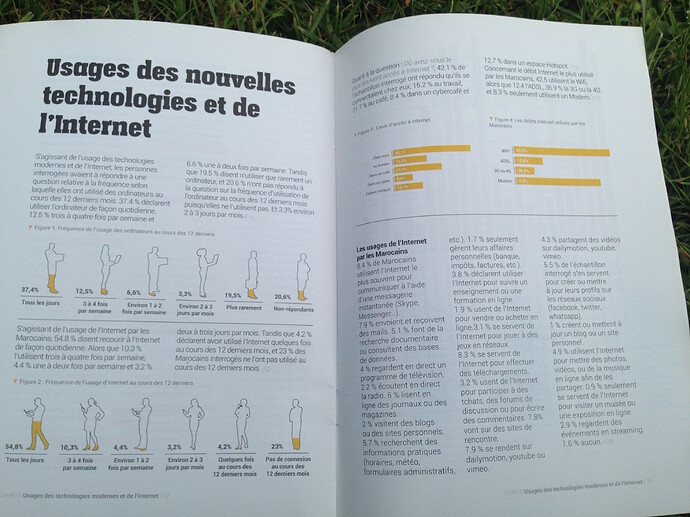 As a part of their advocacy and cultural heritage work, Racines have done fieldwork and surveying to map cultural practices and organisations across Morocco. They have a comprehensive repository of various statistics - such as usage of new technologies and the internet - and an artmap. This is coupled with their projects in access to information and training in civil rights, processes and democracy - such as their urban theatre interventions and comics to inform citizens of their rights. I think it could be really interesting to explore bringing our aligned approaches in sensemaking towards citizen empowerment, solidarity and policy change here. More specifically, how EDGE approaches to collective intelligence, social semantic network analysis and dense networks could be leveraged in this work. Mehdi, I spoke about this at our meeting where most simply it could look like collaboratively hosting an online forum on edgeryders.eu (such as opencare) to induce dialogue, debate, knowledge sharing that is then analysed via our methodology in ethnography and network science and produces quali-quantative statistics from community members themselves (the methodology has been very well received by the European Commission's DGCNECT and most recently effective in policy change with our partners at the City of Milan.). This collaboration would unfold through the OpenVillage project I also spoke of - a self-sustaining R&D ecosystem for next generation social innovation and political renewal - currently focused on a network of autonomous physical spaces for innovation and political renewal linked through a powerful online community. So we could combine quali-quantative stats gathering with debate, P2P training and shared resources (such as your existing co-working space and our Academy for the engaged citizen). Some food for thought for now and let's discuss when we next meet… Ping @alberto @nadia @hugi @matteo_uguzzoni
Culture is the Solution/ MARSAD
Racines focus most of their work in Morocco but have begun to collaborate across the MENA region most recently on the "Culture est la solution" initiative, a diagnosis of the cultural sector in Morocco, Tunisia, Egypt and Lebanon. Led by Racines under a partnership framework MARSAD (Mediterranean Action and Research for Sustainability and Development), the project assembles expert research with storytelling, testimonies and example projects. As above, it seems there is great potential in incorporating online dialogue, knowledge sharing and collaborative sensemaking towards societal change in the next evolutions of this MARSAD partnership.
FRIDA on the EDGE
The clear standout for initial partnership is the FRIDA on the EDGE project. Indeed it was @nadiael from FRIDA that introduced Mehdi and I and all of us are intererested in collaborating around the Moroccan prototype planned for the summer/ fall. Dialogue around this will continue separately on the FRIDA on the EDGE thread.
Shout out to @alex_levene and @natalia_skoczylas and who may find Racines' SpeakArt project of interest (I'll bring the CD and book to the retreat). And also to @noemi @matteo_uguzzoni regarding the FADAE project, a manifesto on public space in Morocco (on your desk and locatable here).
I'll also be connecting Mehdi with you @bob based on alignment around cultural capitals/ change and Alberto Alemanno / the Good Lobby team around lobbying.
And so yes, although hugely inspiring, I won't cover all Racines' work here but rather have touched on some initial points of intersection that are generating ideas around collaboration. Mehdi gave me a bunch of resources that I've brought back to The Reef Brussels and have left out, so feel free to dive in there or on their website if you want to know more. Curious as to everyone's thoughts?!