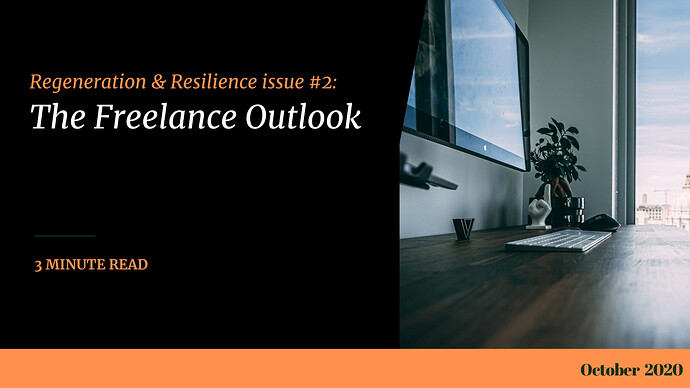 Dear Community,
The freelance economy has been increasing in recent years but that growth has been perpetuated by the current pandemic. While companies and organisations have put a stall on hiring, projects still have to be completed and the number of contract positions has expanded considerably over recent months.
Research carried out by a major jobs platform shows that freelancers account for 36% of the US workforce, while 12% of the country's entire workforce began freelancing throughout the pandemic.
It's not just unique to The States, in Europe and Asia the number of workers entering the gig economy has been growing since 2008 - and it's likely that trend has accelerated over the past few months.
At Edgeryders, we think it's important to discuss and find solutions to some of the issues facing freelancers, as the working world changes.
The current pandemic has really illustrated how challenging it is for people to work remotely - including contract workers - while also trying to take care of their children. We think we can find a better solution to how both can work together, so we are running an event on Wednesday 21st October for some open discussion.
We want employers, remote workers, freelancers and those in the coworking space to join the webinar as we facilitate an unbiased conversation on how child care currently looks and how it could be improved. Comment here to join that conversation.
One of the reasons there has been a huge increase in freelance work is because so many technologies have emerged in recent times to accommodate it. Freelancers are finding it continuously easier to get work online, while high-speed internet means location is no longer an issue - people can work from anywhere.
At Edgeryders, we are running an event on Thursday 22nd October, with an expert panel, to discuss how new technologies can help and hinder freelance workers. If this is something that is of interest to you, please comment here.
That's not just all of what we are discussing…
At Edgeryders we have been examining lots of issues over the past four months. From privacy concerns to how we can pave our way out of the economic fallout in a more sustainable way, our members have been exploring endless possibilities. If you're interested in learning more, some of our most recent ethnography findings are summarised here.
Don't forget…
Another of our upcoming events:
This newsletter is part of the NGI Forward project Generation Internet (NGI) initiative, launched by the European Commission in the autumn of 2016. It received funding from the European Union's Horizon 2020 research and innovation programme under grant agreement No. 825652 from 2019-2021.