2019-06-28T14:00:00Z → 2019-06-28T17:00:00Z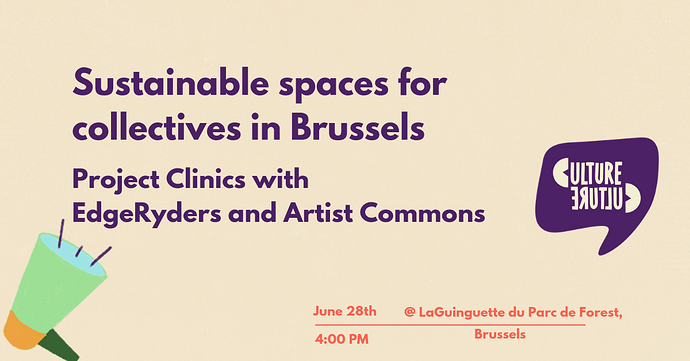 Friday afternoon we meet at Parc du Forest. If sunny, we stay in. Alternatively, we will move to The Reef (Edgeryders office) nearby.
Format: Project Clinics.
After culture Culture #1 edition in May, we agreed to have more practical conversations around specific problematics participants come up with. We will split in smaller groups to have in depth conversations around 2 or 3 main set of problems/ questions brought by participants. Learn more about the clinic methodology here.
Clinics:
Can we build a strategic map for accessing spaces in Brussels? who to talk to? how to look for private/public ownership? what risks are being taken? who are the intermediaries? What models are out there for post-temporality ie organisations and groups buying buildings together?
Host: Edgeryders will present an opportunity to locate and access a new space.
What are effective financial models to make a space sustainable? We wish to discover ways for alternative organization around collective spaces, that are either existing elsewhere or have been tried in Brussels.
Host: Artist Commons will share about their existing model for running multiple arts spaces in Brussels and ask for advice.
Call for contributions
Do you wish to share a specific experience or burning question you have?
Let us know below in a reply. Based on that, we'll be able to invite more knowledgeable people to provide useful advice.
The sooner questions come in, the more expertise we can gather!
Who should be there
The meetup is open to anyone with an interest and or expertise in the topic!
Participants who have joined a previous culture Culture event are more than welcome.
Registration
Let us know you're coming in a reply below!
What's the question you are interested in contributing to?
Spread it wide!
Please share this link with people in your networks: https://www.facebook.com/events/684764165296183/