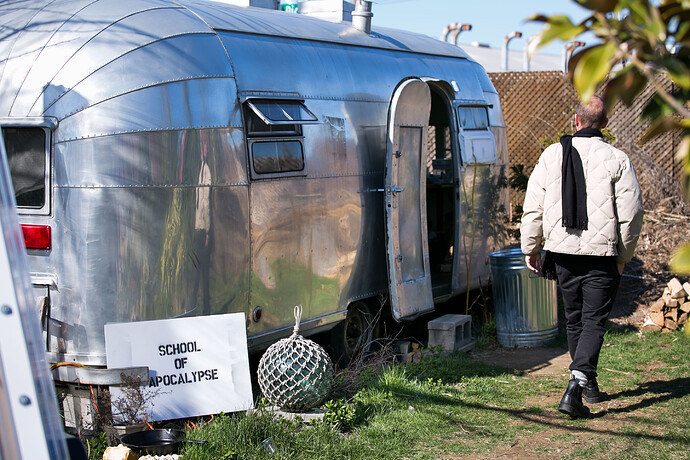 The apocalypse is often thought of as the end of times. For School of Apocalypse, the proverbial end of times offers a glimpse into the beginning of a new one.
School of Apocalypse (SoA) is a New York City based radical learning community. They find their inspiration from the emerging feeling so many of us have about fundamental shifts that are occurring in the world. The idea of the apocalypse is not so much a cataclysmic event, but the sense that the time we are inhabiting is ending and that something new must emerge. Their goal is to dive into that feeling, unpack its hidden dimensions, and create the cultural language to help us define it. As they describe, "For us, apocalypse isn't quite a destination but a horizon, an idea that always exists somewhere in the near future, just ahead of us. As we look towards it, it reflects back our fears and desires. Thinking through apocalypse can therefore foreground creativity and survival, and strip away our pretensions to reveal truths about what is essential." They have no definition for survival, but rather are interested in the questions that arise from it. What is essential for us today? Tomorrow? Is survival enough? And since death and change are both inevitable, what do we mean when we say survival?
For them, school is a broadly defined notion that provides a framework for shared knowledge to emerge. Through pedagogy that is "place-based, participatory, experiential, and collaborative," knowledge is not an accumulated as a set of facts, but is instrumentalized to create new models of thought, behavior, and culture. As they go through this process of "school," they investigate what it means to be part of a community of learning.
One of the ways this school convenes courses is through working groups, which are self-directed autonomous groups that come together around a topic for a 3 month period and share their findings with the rest of the SoA community through a final project (which can take any form). Some recent working groups include:
Choreographies for Survival: "investigates the resilient body and the generative culture space that emerges between bodies that engage in creative acts together.
Survival Library: "aims to consolidate and contribute to an ongoing collection of publications and media works centered around the personal narratives of W/Q/T/POC."
Bodies Intersect Buildings ii: "develops a choreography for raising body awareness in space."
Greenhouses and Bio-art Systems: "explores the various different aspects of how artistic practice and theory aids in the development of human-centric ecosystems, their biological functionality and the implementation of a living artistic form as a tool for habitat survival and stability."
SoA brings together artists, thinkers, doers, makers, creatives, among others to think through the chaos of the Apocalypse, hoping that a new cultural imagination is on the other side.
To learn more and find out about the next SoA meeting (always free and open to the public), visit them online: School of Apocalypse
Also see their proposal for the OpenVillage Festival: "Here You Are: How to Experience Your Body in Space"