Good evening everybody,
I've been trying to move on with my homework on the scouting and I wonder if @Lee would have an idea of who did it in Brutopia i.e. our Brutopian counterparts in team building (info also welcome if we can have it from other co-housing projects). Or how we can find them ourselves (maybe our contact point with the architects could help us?). We can maybe learn about alternative real state/ industrial properties apps/sites.
I have also seen that some years ago there was a meeting with the commune of Forest to discuss with the echevin on properties. I think it is worth taking a look, @MariaClaudia The post is here Meeting with the Commune de Forest: what we learned
Also, I have found what seems to be and interesting tool:
The map of the "cadastre" CadGIS This map has a tool to measure distances. Google Earth also has this tool, but in this map it appears together with the name of the 'terrain', which might help us to find the owner if we give this info to the commune. Example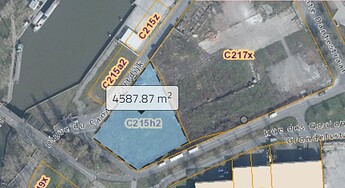 There is another website with maps (I think it is at federal level) but they seem much more complex, I would need more time with this one geo.be . Also, this website, which was also part of an old post Cartes | Le site officiel de Bruxelles Environnement - Leefmilieu Brussel has some interesting maps, one specific on pollution of the land.
Finally, the SNCB also has land for sale sometimes, I've signed up to the newsletter. Nos biens A VENDRE | SNCB
Please consider this post as a sort of aide memoire to not lose track on potentially useful resources.