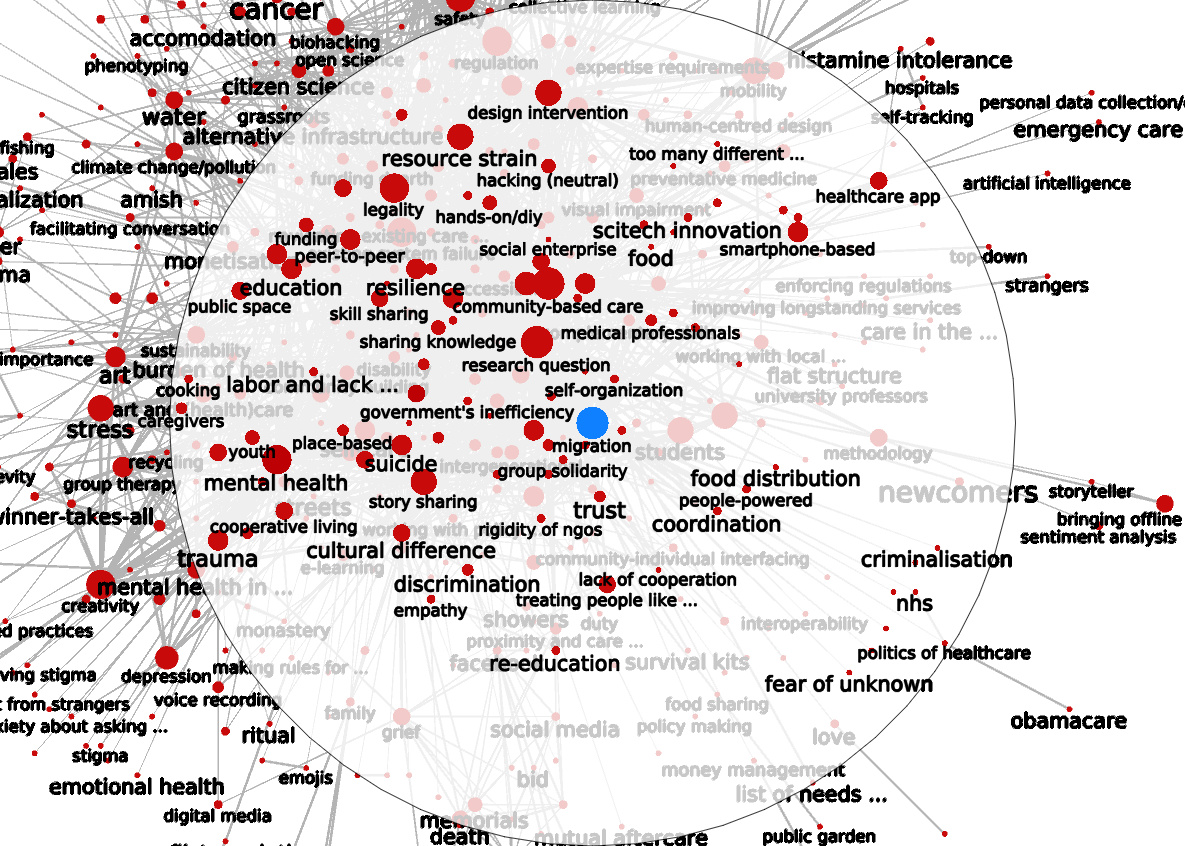 We are Edgeryders, an Estonia-incorporated SME with a Brussels office. We live in symbiosis with a 4,000+ global online community with roots in hacker culture. That lead us to build up considerable expertise in harvesting collective intelligence.
We do this through a novel method called Semantic Social Network Analysis (SSNA). The main idea is to foster an online conversation; perform ethnographic coding on it. Then, we build a network of ethnographic codes that surface in the conversation. By associating codes, participants in the conversation connect them to each other. This process induces a semantic social network, which we can then study with quantitative techniques. You can think of it as a collective mental map of the problem at hand. We have developed software to navigate this map, and filter it to produce high-level "big pictures". With it, human researchers can make sense of very large graphs, with thousands of contributions and ethnographic codes.
This method is a good fit for Horizon 2020 projects. Many calls reward proposals who ensure citizen participation and/or diverse stakeholder involvement. We can provide those, at scale. Ethnography is great at hearing the individual voices in a crowd; and SSNA can handle very large ethnographic exercises.
A natural application of SSNA to Horizon 2020 is Coordination and Support Actions. These actions work by bringing together communities working on one issue. The resulting interaction produces written traces, and we can encode them into a semantic social network. This produces quantitative indicators on the conversation the action is meant to support.
We would love to join high-quality Horizon 2020 partnerships, and bring them SSNA. We are hard working, deadline-hitting people. Happy to write our own work package. If this sounds interesting to you, get in touch with Anique Yael Vered, Research Coordinator.
More information: