When we had a first discussion on inclusion at the plenary meeting of 12 October I explained why this is so important to me. For the sake of transparency and sharing I would like to write down a couple of things that may be of interest. First I will tell something about my own experiences with inclusion, and after that I share something about inclusion in cohousing.
1. My own experiences
Looking for a place that brings a feeling of belonging
When I was in my late teens I have gone through some pretty difficult times. What I learned back then is how much of a difference it can make to be part of a community. Being lonely and isolated is a killer, and so since then I have always dreamt of being able to offer a place that feels safe and that brings a feeling of belonging to some people who are going through a difficult moment in their lives.
Scouting with children with special needs
A bit later I became a scout leader in Akabe 'Toetertoe, a scouting group for children (6-21) with special needs. In a nutshell I had the time of my life there, having a lot of fun but also learning invaluable things that I will take with me for the rest of my life.
My first experience with inclusion was when I was a leader of the 14-16 year olds. During the Easter weekend there is the tradition of going out on a weekend with all groups from the same district. The first year this had not been much of a good experience (our kids were mostly just ignored), so the next year we put a lot of effort in making sure that our kids were seen and their needs considered.
The result was simply magical. The other kids integrated our kids in whatever it was they were doing as if it were nothing. I remember Emiel playing the drums, Veronique having her wheelchair pushed and chitchatting away with some other girls and Dana demonstrating her singing skills to one of the other leaders. It was easy to see how our kids felt accepted and included. They were beaming.
The most memorable inclusion experience I had as an Akabe scout leader was when we took six youngsters with special needs to the World Scout Jamboree in the UK, four of whom I had had in my own group for 1-2 years. Together with 26 other youngsters and 6 other leaders we were "Troop H" of the Belgian contingent, participating in the celebration of 100 years of scouting together with 40.000 other scouts from all over the world.
As an Akabe leader it was absolutely exhausting, but it is one of the most rewarding things I have ever done in my life. Because we spent so much time together, there was space for friendships to develop, and they did. That the youngsters with only a mild mental disability or those with only a physical disability would find a place in the group was maybe somehow to be expected.
What I did not expect however was the depth of the friendships, for all of the kids. Wim for example, who is mentally about five and who has a speech disorder that makes pronouncing words impossible, became friends with Jasper, one of the "regular" kids. It's hard to describe in words, but I could just see him grow and find self-esteem. If I would have need to guess what he was thinking it would have been "Look at me here eh. This is not the childish-little-protected corner of our Akabe group. This is the real deal, and I'm fully part of it."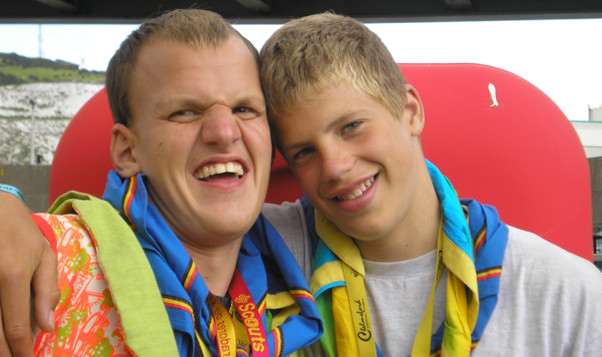 Picture: Wim (left) and Jasper (right)
(Jasper and Wim's mother consented to the publication of this text)
Discovering Belgium together with a couple of Syrian youngsters
A final experience I wanted to share is from when I became a buddy of a Syrian young man, who came to Belgium to seek asylum as an unaccompanied minor. What stayed with me in terms of inclusion is the privilege of having been part of the process of discovering Belgium both of my "buddy" and his friends.
Here again I experienced the value of creating a feeling of safety. It was nothing out of the ordinary, rather just little things. Examples include being able to ask questions they couldn't ask anybody (because they didn't know any Belgians other than their teachers at school), trying out new foods (raspberries, banana split, mussels, salmon, …), going to a bar, …
And the other thing is of course the feeling of acceptance and being included. I will never forget the first Christmas we celebrated together – the thrill of giving and receiving presents was a first – or when we went to buy flowers (also a first) for my mother's birthday party. Here again it's difficult to describe it with words, but I have seen these young men beaming at several instances and it was beautiful.
2. Inclusion in cohousings
So those were all very rewarding experiences, and therefore it's something I would wish The Reef to offer. From my experience inclusion offers a sense of dignity and acceptance and a feeling of belonging that can make a difference in someone's life.
Inclusion in cohousing is not a new thing. In Flanders the organisation called Oak Tree Projects owns several units in cohousings that it rents out to people with a disability or a chronic illness.
Closer to my own experience I also wanted to share a story that was lately shown in a Flemish television show called "Down The Road". Maarten, one of the youngsters who went along with us to the Jamboree, participated to the second season, in which a group of young adults with Down syndrome travelled to South-Africa.
In this clip they show a discussion with six young adults who participated in the show. They talk about how the trip made them so much more independent and self-confident. Maarten for example, you can see in the clip, was categorically opposed to spending the night just with without any adults. Eventually he changed his mind, and he explains in the clip how his mindset changed "from negative to positive".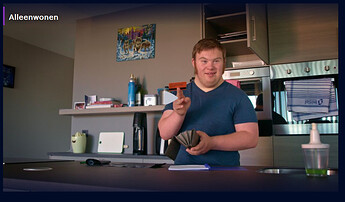 Link to clip: VRT MAX (in Dutch, with Dutch subtitles)
You need an account to be able to watch the clip, so I created one for The Reef (internal link)
That clip gives me the shivers. I'm touched by the pride they take in living "independently" in a cohousing – or in the case of Yens even living all by himself – and also by their desire to lead their own lives and be less dependent from their parents. In his cohousing for example Maarten is in charge of a couple of chores like bringing in the mail or taking out the garbage, and it's beautiful to see how much he takes his tasks to heart. Another thing that comes forward is the relief of the parents, from knowing that their children have found a place where they can live, if need be without them.