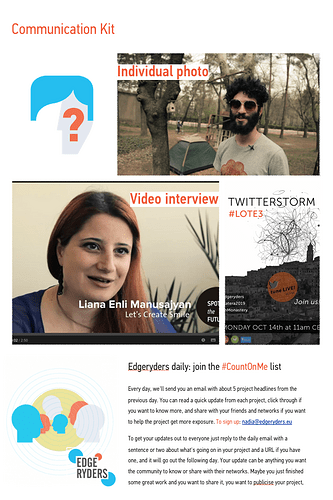 This 3-hour session is dedicated to help us figure out how to get really really good at leveraging our collective online presence to:
Support individual community members' projects.

Build public, local and global, recognition of the positive contribution of individuals and groups active in Edgeryders to their local communities…and the greater good in a more general sense.

Build trust and strong ties between the different members spread all over the world.
Introduction
Many of us coming together at the event in Tbilisi have chosen to take the path less travelled. And it is very hard to be good at everything. During #lote3 (last year's edition of the Edgeryders big annual community event) a room full of people building inspiring projects said they could really use help with design and communication. Plus many of us simply prefer getting on with the work we are passionate about, rather than promoting our projects, or even ourselves.
Public recognition is important if nothing else because it makes our work and ideas accessible to others and opens new opportunities. Also, we all need to generate revenue and getting the word out about what we offer to people who might be interested is crucial. Most of us are short on time and cannot afford to hire communications agencies or staff.
But we happily contribute towards supporting one another if someone is coordinating and making it easy, fun and meaningful to do it.
We do it all the time: When was the last time you shared a funny or beautiful photo or video online? Or an interesting article/blogpost? Exactly.
Session Format
This session consists of a short presentation followed by a hands on workshop. The aim is to go from inspiration, discussion, brainstorming and execution in one afternoon. So we have actually built something together by the time we leave for dinner!
Equipment
Please bring an HD camera if you have it, as well as a stand. Don't forget to bring your laptop if you have it!
I need help with....
If you know friends who are good graphic designers or web developers, and want to learn about using social media effectively, bring them along. It will be a fun and rewarding experience for all of us!
Want to submit your project as a case study?
Tell us about you and your work in arrivals. If the description is detailed enough, we may pick up your project as one of the case studies we will be working on in the session.
Why is this good? Check out the rates of commercial communication agencies and do the math

Date: 2014-06-23 20:00:00 - 2014-06-26 20:00:00, Asia/Tbilisi Time.