On Tuesday 12th November, the Sci-Fi Economics Lab ran its first session of brainstorming around writing papers for the new economics that the Lab is about. About 15 people participated in the meeting: among them, @matthias, @irene_1, @jean_russell, @fjanss, @teunvansambeek, @JasonCole, @Stef-Kuypers, @Jorge and others who, I think, are not (yet?) registered on the platform. Here's what went on:
Round on introductions
We had one!
Overview of 2020
We then went over what we think 2020 looks like for the Lab. Things are still in flux, but we hope to do three things:
Produce papers, to be published somehow (a book? a journal?). The process of writing them could be punctuated by online seminars, where co-authors present their initial results.
Co-curate with Climate-KIC a policy-oriented event, to take place in late 2020.
Turn the Lab into a community, which anyone interested can join without permission. The community would live mostly here, on edgeryders.eu (for now. If need be, it is easy to move it from here to a dedicated federated site under communities.edgeryders.eu). I am personally committed to make a special effort to include in the community the doers: people who are experimenting in practice with different economic systems. This includes ecovillages, some intentional communities, local currencies champions, post-capitalist enterprises (right, @gyrgir, @lasindias?) and so on.
Mapping "hot topics" for the Lab
We spend most of the session discussing hot topics, defined as what people are actually working on. I started by attempting a very rough grouping on the basis of the replies I had received to the Call for co-authors; but there were several people in the room who had not responded to the call and, conversely, several people who had responded were not in the room. So Jean and others coordinated an effort to do that, in order to map possible collaborations. The results was the following list:
Data economics
Disruption of money
Moneyless economies
Computer modeling (either aggregated, like in classical economics – @mstn has produced a "pre-paper" in that vein – or agent-based)
Models for organizations and corporate governance
Fictional economies: "what would happen if…" questions
The natural world as an economic actor
The exercise also mapped individual interests in the room (as people not in the room were not there to speak for themseleves) to these topics. The result was the following graph: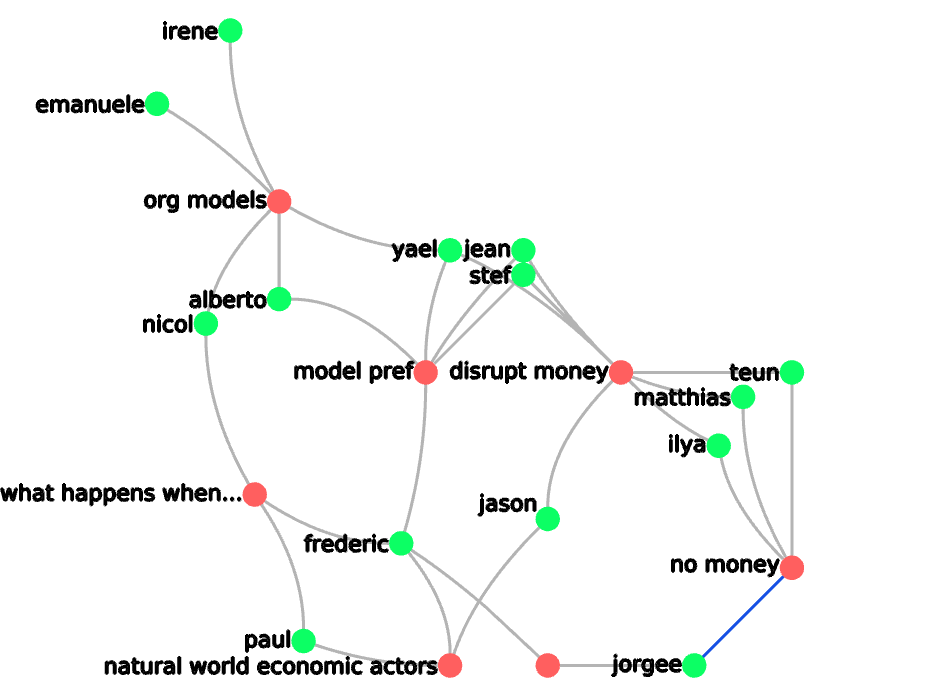 Output format and the role of science fiction
We are not yet sure what format the Lab's output will take. At least two are possible:
Economics papers, drawing on questions that sci-fi novels are good at raising
Sci-fi works (short stories or novels) with a strong economics backbone, like Walkaway.
We could even edit an anthology of papers + stories. Ideas and feedback welcome.
What next?
The call for co-authors stays open.
People are invited to make themselves findable, by posting on the Lab's space here on Edgeryders. Some people have posted about their work (like @karl here). Others have introduced themselves on the dedicated thread.
People are encouraged to get in touch with each other to propose collaborations (example).