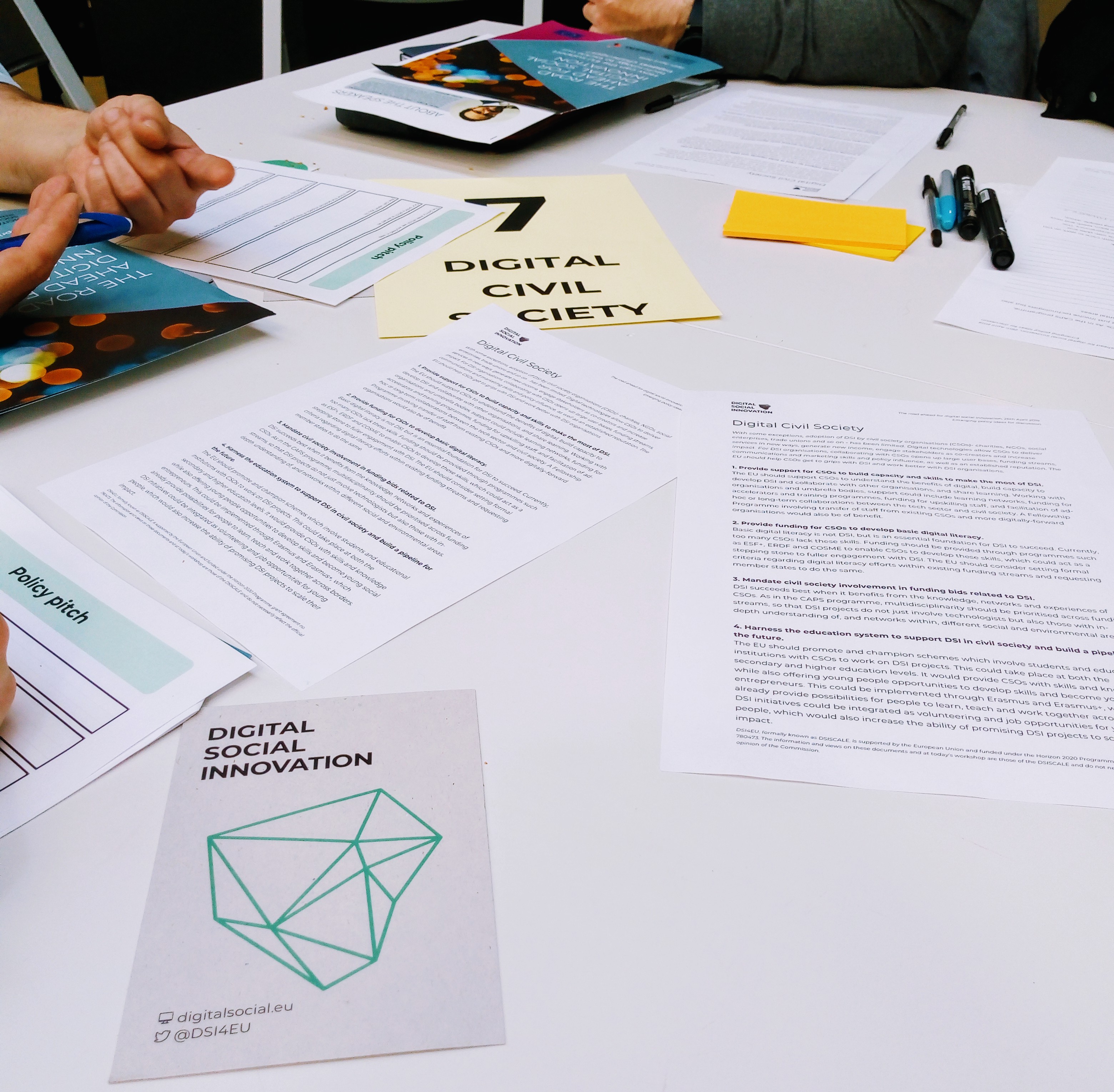 Last Friday, 26/4, a policy workshop in the framework of DSI4EU project, was held in Brussels. DSI4EU is making a case of why there needs to be a "D" alongside "SI" by linking thousands of projects in a network.
The background for this workshop is an extraordinary imbalance in the digital world, huge investment in business but little support for making the most of digital technology for social needs. Creative and innovative projects on the ground using digital technologies face series of obstacles while traditional civil society is still not making much use of the digital. How can the near future allow citizens to have control of the world around them? How can the EU and the DSI community work together to achieve real impact at scale?
We are moving towards a new research Framework Programme, a new Commission and a new long-term budget. This workshop gathered senior officials from the EU administration, foundations, think tanks, civil society and DSI practitioners precisely with the aim to explore ideas and show to the newly elected MPs and the Commission what DSI can offer to tackle some of the current world challenges. To begin with, several stories were shared:
Panel discussion gave some insight about the direction in which the policy agenda is going. Ruby Gropas (Team Leader at EPSC), is currently preparing briefings and materials for next institutional cycle, making clear the impact and added value of DSI as well as pointing out what still needs to be done. Is the EU at the level where the change can happen? Good news is that a lot has already been done. Policy makers are now aware about the DSI which was not the case a few years ago. In principle all big societal challenges that are now in focus at the EU level are areas in which social innovation strives in: climate change, migration, democracy and freedom. What needs to be shown more are the economic and financial indicators of DSI. In many EU regions, the priority should be capacity building and fostering better understanding of the value of public-private partnerships.
Fabrizio Sestini (Senior Expert in DSI at DG CONNECT) was rather optimistic, saying that the EU Commission will continue to invest more in technologies which connect people. In future, we should share information and solutions, use technology to understand problems rather than perceive it as something which divides us and serves only economic interests. The centralization of data is the biggest issue. A few groups are doing research on decentralized platforms, such as DECODE project, but we should do more. Understanding the importance of these challenges is relevant, but to put in place effective solutions we need to start with capacity building at different levels.
Susana Nascimento (Policy Analyst and Researcher at the Joint Research Centre) is co-creating and testing new solutions for policy making. Number of activities focus on how to build technologies centered on people, who builds them and how, such as "Making sense" – citizen sensing toolkit.
Policy Officer at the DG GROW, Karel Vanderpoorten's view is that we should start locally but produce globally – initiatives to solve problems start from the community itself and our duty is to share this locally grown knowledge. Each year Commission launches Social Innovation Competition, which might be worth looking at. This year's theme was facing challenge of reducing plastic waste.
During discussions and practical session in groups, several things were pointed out:
Insisting on multidisciplinarity and investing in experiments, following the Manifesto for DSI
Targeted information and resources need to reach the right people.
More diversified, more accessible and inclusive funding options are needed. More openness means the civil society should be considered as a research community so that the maker movement and citizen science projects for example, all become part of the EU story.
Ensure sustainability of funded projects through new support mechanisms.
Coordination is the key, we need strategic lines to make a case for DSI, keeping in mind that showing numbers and impact indicators is quite essential for policy makers.
Fostering public-private partnerships.
Developing a road map for public institutions – how to use funding and legislative powers to support DSI.
Olivier Bringer, the Head of Unit at the EU Commission in charge of the Next Generation Internet initiative and internet governance policy, made some closing remarks:
To generate new ideas we need a mix of policy makers and practitioners. The social priority and empowering citizens will remain in the focus of the Commission. DSI will have more attention, but to continue showcasing concrete examples, stories and solutions is still necessary.
Importance of cities: a rich environment in which testing and implementing solutions should be made possible.
Involving users: they are the ones who innovate. The advantage of DSI is that we can build skills at the same time as solutions.
Build the internet of humans supported by the policy.
Continue the conversation and build an alliance by structuring this diverse community.
Based on this workshop, some conclusions will be made and policy recommendations prepared. I will share this when we receive updates. In the meantime, some of you might find useful these open calls:
In terms of research, in March 2019, the Council of the European Union and the European Parliament reached a provisional agreement for the next budget period from 2021 to 2027 which the European Parliament endorsed on 17th of April. The new Horizon Europe programme will be based on three complementary and interconnected pillars:
Excellent science will support excellent basic science, strengthen the Union's scientific leadership and develop high-quality knowledge and skills.
Global challenges and European industrial competitiveness will support research which addresses societal challenges and industrial technologies in areas such as health, security, digital and key enabling technologies, climate, energy, mobility, food and natural resources.
Innovative Europe will focus on scaling up breakthrough and disruptive innovation by establishing the European Innovation Council to offer a one-stop-shop for high-potential innovators.
The future looks bright (Horizon Europe factsheet). Let's already start building partnerships for the upcoming calls.
Save the dates: