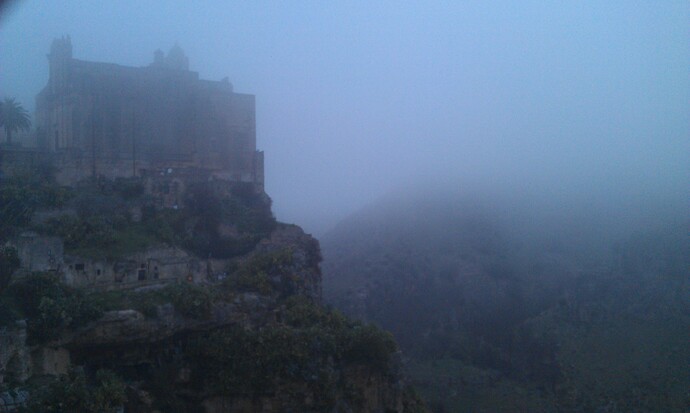 un·Mon·as·ter·y (un-mŏn′ə-stĕr′ē)
n. pl. un·mon·as·ter·ies
1. The place in which we gather.
2. A group that comes together to collaborate on shared social challenges.
3. A project that is redefined in each iteration by its participants, context and it's outcomes.
4. The beginning of something different.
In recent months we've come to define the unMonastery as a place in which we gather and today we have gathered in Matera - and so for the first time we can say together that the unMonastery has finally arrived.
This is a tricky post to write; it's hard to know exactly what to say in this moment, near 596 days have passed since the initial conversation which has brought us to Matera - yet it's clear we have barely begun. In the lead up to this special occasion there are many people who have contributed to shaping, adjusting and building the unMonastery as it currently stands today. We'd like to thank you eternally for your labour and passion, without it the project would most likely have remained just a fleeting conversation among friends and strangers at #LOTE1.

But today it is very real and with reality comes varying degrees of snagging.

I arrived on Wednesday of this week with [La_Gaia], shortly followed by [elf pavlik], [katalin], [marc] and [cristiano siri], we will be joined soon by [Bembo Davies], [Kei] and in the coming weeks many more. So far there has been little time for reflection and unfortunately less time for posts, but give us a week to ground ourselves and find our feet and these shall come.

Our time here so far has been consumed primarily with ironing out the bugs in the administrative and financial processes to ensure the smooth day-to-day running of the unMonastery and it's relationship to MT2019. In addition to these bugs we've been establishing crucial dates, such as the opening of the building (set for the 14th and 15th of this month, book tickets now), when the funds will be transferred, the initial connections we should make, and how/when elements of the project will be shared. Most importantly we've been spending time getting to know one another and beginning the discussion of exactly what it is we will do here together.
The question that looms most prominently for us right now though, is; "When will the heating in the building be switched on?".

What might seem like a crisis has in fact been little more than a minor inconvenience, as it has given us the space to work, practice our Italian, ask ourselves fundamental questions about how we should organise together and what our collective aims might be. We've been gathering at a variety of locations and we are immensely grateful to our hosts, principally Casa Netural ([andreapaoletti]) and the un-unMonastery (AKA le Monacelle). Tomorrow is set to be the day when the heating system comes to life and we can begin to furnish the building with our presence.
We are deeply appreciative of [Rita O], MIMERS [antonioelettrico] and MT2019 who have been working tirelessly over the past months to bring the building into use and since arriving we've seen the first beds arrive, the internet installed and the appliances appear - I've shared photos below so everyone can see that these developments are real!

Despite the rain and the nomadic nature of our stay in Matera so far we are in high spirits, we have already begun to take time with Cristiano's skilled facilitation to consider the daily rituals of the project - and the collaborations we've started mark the first steps towards forming an internal working structure for the project.

On the ground there is much for us to do and for the coming week the building will be our main concern but beyond utilities; we need to find food, build a new website (to accommodate our projects), rationalise our sleeping patterns, establish an evaluation model, collate together the story so far, help brew a twitterstorm and much much more.
But whilst we wrestle with the infrastructure, the more global side of the unMonastery project has been hard at work and if you'd like to lend a helping handing, these are some good starting points:
This was an attempt to give an overview and an update to what exactly is happening but with the speed at which we are moving, it has become a challenging task - with the desire to share perspectives other than my own, I have asked the unMonasterians to share their own thoughts and work; here or in a separate post.

We look forward to seeing you in Matera soon.