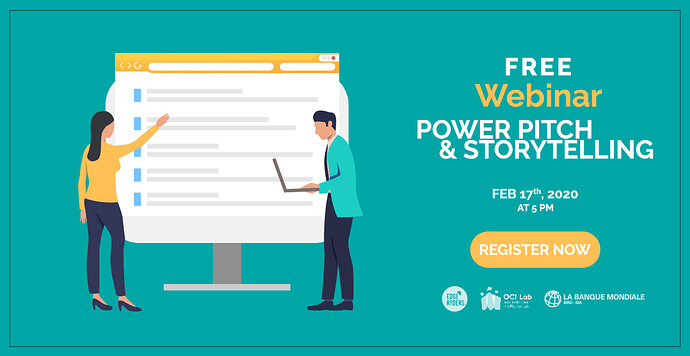 About the webinar
Preparing a convincing pitch is indeed a critical step in the eyes of young social entrepreneurs, since it will ease the process of raising funds and turning their project ideas into reality while assuring the expected positive impact on their communities.
On Monday, February 17, 2020, starting from 5.00 pm CET, our guest speaker, @matteo_uguzzoni, will share with us how to use the power of pitching and storytelling to conquer and retain the audience's attention and use it to achieve the desired action.
Matteo Uguzzoni has designed strategic presentations for top leadership at Luxottica, Vodafone, PriceWaterHouse Coopers, UniCredit, eBay, Italian Ministry for Economic Development, and the Tunisian Ministry for Tourism.
During the Webinar you will learn
How to sell your project/idea to your audience to reach your personal goals
How to craft your message and a persuasive reasoning
How to design your slide deck to support your live presentation
How to research your performance and prepare yourself for a live meeting
How to conquer and retain the attention of the audience to reach your desired action
And more!
How to register?
Please register by filling out the form
This event is free of charge, yet we have a limited number of available spots. Better hurry!
For more information about the webinar, please leave a comment below.
PS:
You should know that this webinar will be aired in the following coworking spaces:
Also, it will be followed, on Friday, February 21, 2020, by an online Lab'' Your time to master sales," that aims to assess the feedback to improve the acquired lessons from the webinar.
What is OCI Lab?
Open Collective Intelligence Lab is a Peer to Peer online inclusive incubator that supports aspiring young social entrepreneurs in the MENA region through online mentoring and networking.