In the Plato project, one of the modules we are developing is the "Dreams platform".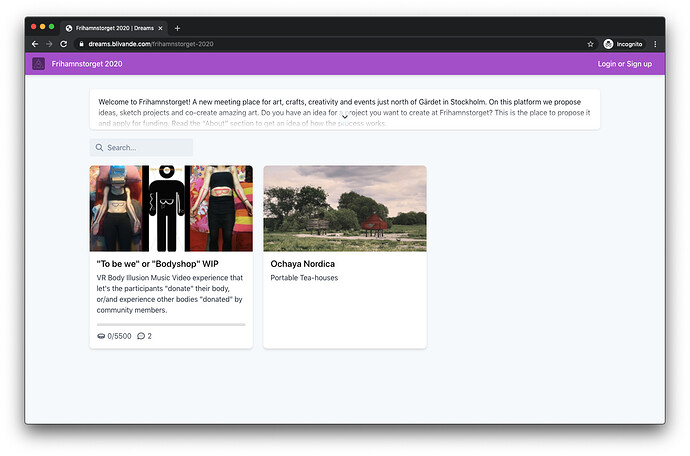 This platform is a place to share, develop, and allocate resources to ideas. Any member can propose an idea, invite others to contribute, receive comments from others, and receive funding to realize the project.

We believe all ideas are worth considering. This platform doesn't expect detailed planned out proposals, instead, it encourages roughly sketched out ideas that the community flesh out together. If you have an idea and are willing to put in work to make it happen - then go make it!

We believe in the power of a community in solving their own problems. This platform allows any member to review others' proposals, and point out potential issues. In most cases, no central authority is responsible for this vetting process, instead the responsibility lies with the members of the community - i.e. you!

We believe in the power of a community to know what ideas they want to happen. This platform allows the members to allocate the resources between the proposals. Each member gets a certain amount of grants, which they distribute among the proposed ideas in a granting run.

Ideas period

Every member can propose ideas on the platform, and invite others to co-create.

Proposals period

All ideas on the platform are fleshed out and finalised into ready proposals.
Members can comment on each others ideas, point out potential issues and come with suggestions of how to fix them.
This period might in many cases overlap with the ideas period.

Granting period

All proposals that are complete enough to meet the community guidelines are approved for granting by the event administrator.
Each member gets allocated a certain amount of grants.
During the granting period, the members distribute the grants between the ideas they want to see happen.
When the granting period is over, remaining undistributed grants are redistributed by the event administrator, and the list of funded ideas are presented to the community.

After this is done we have a set of awesome co-created ideas that we can bring into the world!

Below follows more specific information related to this event.
We can already host multiple events, each with their own membership and admins. Setting up another event on the install only takes a minute. This platform is ready for beta users to try out. It's still in development, so you will need to have some oversight with things changing and moving. That said, we use this in production ourselves, so it's in our best interest to keep it functional.
We can also set up an event on Dreams to automatically accept all users who have bought a ticket to an event, granted that they use Pretix. That might come with some costs though since the integration equals developer hours for the project, but one possibility could be to use the Blivande Pretix install and allow us to take a cut to pay @gustav for the integration.
So, are there any Edgeryders projects that could use this? Could we even include this tech and methodology in WP for future proposals? It could fit well into the sort of ideas floating around EarthOS or the OCI Lab. Ping @alberto, @nadia, @noemi, @johncoate, @marina, @andreja, @matteo_uguzzoni